9th Meeting of the Panel on Efficacy Evaluation
of Herbicides and Plant Growth Regulators
Ludwigshafen, (DE), 2010-03-24/25
The 9th Meeting of the Panel on Efficacy Evaluation of Herbicides and Plant Growth Regulators took place in Ludwigshafen, Germany on 24-25 March 2010. Many thanks are due to Mr Pfenning and his colleagues at BASF, who provided most excellent organizational support and technical visits of facilities.
The main tasks undertaken by the Panel included the review of extrapolation tables to accompany EPPO Standard PP1/257(1) Efficacy and crop safety extrapolations for minor uses and the updating the PP1 range of herbicides/PGR Standards for the evaluation of PPPs. The Panel also discussed issues of Zonal and Mutual Recognition processes with regard to efficacy issues.
New extrapolation tables were reviewed for tree nuts and bush fruit (both effectiveness and crop safety), in a new format, recently agreed by the General Standards Panel in early March. These tables were sent for country consultation, together with flower bulbs/tuber flower crops and bulb vegetables, which had been addressed at the previous Herbicides/PGR Panel in November 2009. This being the case, a total of 8 herbicides tables will be presented to the Working Party in May 2010 for approval.
The Panel addressed the following Standards with minor amendments after country consultation following the previous Herbici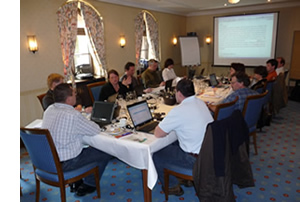 des/PGR Panel in November 2009:
Weeds in flax and hemp (PP 1/138)
Weeds in cotton (PP 1/137)
Desiccants used for potato (PP 1/143)
Sprout suppressants in potato (PP 1/164)
Control of lodging and growth regulation in brassica oil crops (PP 1/153)
Accelerated ripening of oilseed crops and large-seed legumes (PP 1/156)
Regulation of growth in Pisum (PP 1/163)
These will be passed to the Working Party for agreement in May 2010.
The Panel addressed reviewed the following Standards and agreed that they were suitable to send for country consultation:
Weeds in tobacco (PP 1/140)
Control of suckers in tobacco (PP 1/155)
Reduction of lodging in sunflower (PP 1/189)
Aquatic weeds (PP 1/115)
The Panel will next meet in Nyon, CH on 15 – 16th March 2011 at the kind invitation of Mr Bohren.