EPPO training workshop on PRA
Limassol, CY, 2008-11-11/14
EPPO organized a training Workshop on Pest Risk Analysis (PRA) in collaboration with the National Plant Protection Organization of Cyprus. This Workshop was attended by 75 participants from 18 countries.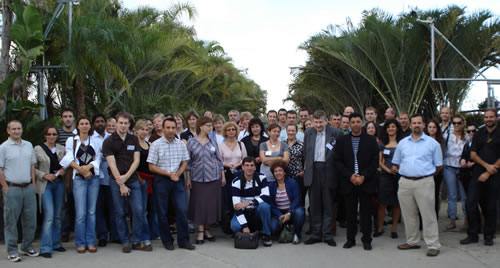 The Workshop was opened by Mr Photiou, Director of the Department of Agriculture, of the Ministry of Agriculture Natural Resources and Environment. Mr Patsias, Head of the National Plant Protection Organization, presented his organization. Both welcomed the participants to Cyprus and wished them a fruitful workshop on the very important topic of Pest Risk Analysis.
The Workshop included presentations on the national experiences with PRA developed in the Netherlands, in Israel and in the United Kingdom. A presentation on the activities of the Panel on Plant health of the European Food Safety Authority (EFSA) was made by Ms Ceglarska (EFSA EFSA, Head of Unit).

The training programme consisted of theoretical presentations on the different stages of PRA, based on the IPPC PRA training material, as well as practical exercises. The theoretical presentations were given by Ms Schrader (Julius Kühn Institute, DE), Mr Mc Leod (Central Science Laboratory, GB) and the EPPO Secretariat. Five concomitant groups were organized to conduct practical exercises, each one running the scheme on a different species with the support of a trainer and members of the Panel on PRA Development. Difficulties with and comments on the EPPO PRA decision support scheme were recorded. The species studied in the practical sessions were as follows:
Bactrocera zonata (fruit fly)
Metamasius hemipterus (Coleoptera of palms)
Solanum elaeagnifolium (invasive plant)
Tetranychus evansi (mite of Solanum spp.)
Xanthomonas axonopodis pv. allii (bacteria of Allium spp.)
The participants had been provided with some information on these species prior to the workshop. Interactive discussions on the questions of the scheme took place during the practical sessions.
The beta version of the computer programme of the EPPO PRA decision-support scheme was also presented and used during practical session. It received a very enthusiastic welcome.
Each group had the opportunity to report on its findings. Comments received and suggestions for improvement will reviewed by the Panel on PRA Development in order to revise the EPPO PRA decision support scheme.
Mr Baker coordinator of the 7th EU framework programme on Pest Risk Analysis "PRATIQUE" presented this project, Mr Mittinty (Queensland University of Technology, School of Mathematical Science, Brisbane, AU), also a partner in PRATIQUE, performed a statistical analysis on how assessors score different questions of the scheme.
Warm thanks are due to Mr Adamides for the very fine organization of the Workshop and a most friendly welcome in Cyprus, and also to the trainers for the theoretical sessions: Ms Schrader (DE), Mr Mc Leod (UK), as well as to the trainers of the practical sessions: Mr van der Gaag (NL) and Mr Baker (UK). The members of the Panel on PRA Development are also thanked for their help in assisting in practical sessions.
PRESENTATIONS
Presentation of the NPPO of Cyprus
Mr Patsias, head of the Cypriot NPPO

Context of Pest Risk Analysis
Mr MacLeod, Central Science Laboratory

Presentation of the EPPO decision-support scheme for quarantine pests (DSS) and organisation of PRA at the EPPO level
Ms Petter, EPPO Secretariat
Regional and national experiences with Pest Risk Analysis
Presentation of the EFSA Panel on Plant Health
Ms Ceglarska, EFSA

Dutch experience with PRA quick scan system
Mr van der Gaag, Plant Protection Service, Wageningen

Israeli experience with PRA
Ms Levi, Plant Protection and Inspection Service (PPIS)

GB experience with PRA: Non-native species risk assessment
Mr Baker, Central Science Laboratory

Presentation of the beta version of the EPPO DSS
Mr Griessinger, EPPO Secretariat

Presentation of PRATIQUE (EU project on Pest Risk Analysis)
Mr Baker, Central Science Laboratory
When and why is a Pest Risk Analysis initiated? (Stage 1)
Theoretical presentation on initiation (stage 1 questions 1 to 7)
Ms Schrader, Julius Kühn Institut (JKI), Federal Research Centre for Cultivated Plants, Institute for National and International Plant Health
Presentation of the species for the practical exercises
Metamasius hemipterus (coleoptera)
Mr van der Gaag, Plant Protection Service, Wageningen

Bactrocera zonata (fruit fly)
Mr Baker, Central Science Laboratory

Solanum elaeagnifolium (plant)
Ms Brunel, EPPO Secretariat

Xanthomonas axonopodis pv. allii (bacteria)
Ms Petter, EPPO Secretariat

Tetranychus evansi (mite)
Mr MacLeod, Central Science Laboratory
Pest Risk Assessment (Stage 2)
Theoretical presentation on categorization
Ms Schrader, Julius Kühn Institut (JKI), Federal Research Centre for Cultivated Plants, Institute for National and International Plant Health

Theoretical presentation on entry
Ms Schrader, Julius Kühn Institut (JKI), Federal Research Centre for Cultivated Plants, Institute for National and International Plant Health

Theoretical presentation on establishment
Ms Brunel, EPPO Secretariat

Tools for climatic prediction
Ms Brunel, EPPO Secretariat

Theoretical presentation on spread
Ms Schrader, Julius Kühn Institut (JKI), Federal Research Centre for Cultivated Plants, Institute for National and International Plant Health

Theoretical presentation on economic impact (including environmental and social impacts)
Mr MacLeod, Central Science Laboratory & Ms Brunel, EPPO Secretariat
Pest Risk Management (Stage 3) and risk communication
Theoretical presentation of pest management all stage 3 of the DSS and risk communication
Ms Petter, EPPO Secretariat & Mr MacLeod, Central Science Laboratory