European phytosanitary Conference on potato and other arable crops
Chernovtsy, Ukraine, 2008-10-07/09
The Conference was organized in Chernovtsy (Bukovina region of Ukraine) in collaboration with the Ukrainian Plant Quarantine Research Station and with the support of the Ministry of Agricultural Policy, Academy of Agrarian Sciences of Ukraine and the Main State Plant Quarantine Inspection Service of Ukraine.
More than 200 experts from 35 countries participated in this Conference.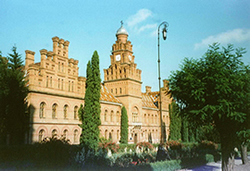 Several sessions took place :
general session on potato pests: 7 presentations on EPPO and global standards concerning potato, methods used for research, phytosanitary situations regarding potato in EPPO countries;
session on potato wart disease: 8 presentations on pathotype nomenclature, assessment of potato resistance to the disease, pathotype identification;
session on ringrot of potato: 9 presentations on surveys and control of ringrot, diagnostic methods, emergency response and eradication;
session on potato cyst nematodes: 10 presentations on sampling and testing procedures for Globodera spp., monitoring, sources of potato resistance and resistance testing, strategies for control of potato cyst nematode;
sessions on emerging pest situations of importance for potato: 8 presentations on virus diseases of potato, Meloidogyne minor, PSTVd in ornamental Solanaceae;
session on phytosanitary problems with arable crops other than potato: 13 presentations on identification of pests, modelling of quarantine pests distribution, pests of sunflower, strawberry, beet, maize, apples, etc.
One of the main purposes of the Conference was to organize intensive exchange of experience between eastern and western parts of the EPPO region on potato pests and other phytosanitary problems on arable crops. This task was successfully accomplished, and further cooperation was discussed during the Conference. Participants of the Conference had the opportunity to visit laboratories of the Ukrainian Plant Quarantine Research Station, which celebrated its 70 years anniversary, and to profit from excellent Ukrainian hospitality.
The Conference was followed by the meeting of the EPPO Panel on Phytosanitary Measures on Potato, which took place in the Ukrainian Plant Quarantine Research Station.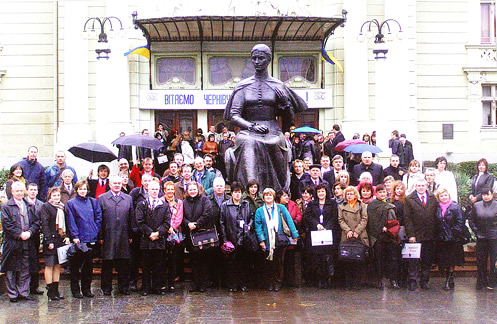 Presentations
General session on potato pests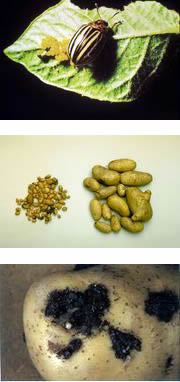 Overview of existing EPPO standards and future work for potato
Nico van Opstal (EPPO)

Development of EPPO/NAPPO and global standards for potato
Colin Jeffries (GB)

Implementation of EPPO standard 'General crop inspection procedure for potatoes'
Alberto Saccardi (IT)

Methods used by UkrNDSKR to study regulated pests of potato
Pavel Melnik (UA)

Phytosanitary regulations for potatoes in Ukraine: from lists of pests to detection and identification
Liliya Pylypenko (UA)

Globodera rostochiensis and Synchytrium endobioticum in Republic of Belarus
Laryssa Kryshtofik (BY)

Phytosanitary situation of potato in Lithuania (in Russian)
Lidija Necajeva and Rasa Zitkuviene (LT)

Potato quarantine and the Scottish seed potato classification scheme
Colin Jeffries (GB)

Tests of advanced biologic preparations for Colorado Beetle control in Georgia
Gulnara Verulidze (GE)
Potato wart disease
Pathotype nomenclature and identification
Gerard van Leeuwen (NL)

Assessment of resistance to potato wart disease and pathotype identification of Synchytrium endobioticum in Poland
Jaroslaw Przetakiewicz (PL)

Potato testing for wart disease (in Russian)
Galina Sereda (BY)

New methods of diagnostics for Synchytrium endobioticum
Jaroslav Horky (CZ)

Molecular diagnostics of potato wart disease in soil samples and comparative analysis of geographical populations of Synchytrium endobioticum on virulence and DNA markers
Alexandre Khyutti (RU)

Selection of new test-assortment of potatoes to identify pathotypes of Synchytrium endobioticum (in Ukrainian)
Aurelia Zelya (UA)

Initial studies of potato varieties resistance to Synchytrium endobioticum in Bulgaria
Lidiya Dimitrova (BG)

Potato breeding on the resistance to main diseases in forest steppe conditions
Roman Ilchuk (UA)

Potato wart disease in Poland: occurrence and current work
Janina Butrymovicz (PL)
Ringrot: emergency response in case of outbreak, eradication and control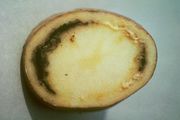 Control of Clavibacter michiganensis subsp. sepedonicus in Germany
Petra Müller (DE)

Control of Clavibacter michiganensis subsp. sepedonicus in Lithuania (in Russian)
Lidija Necajeva, Rasa Zitkuviene (LT)

Danish routine survey of Clavibacter michiganensis subsp. sepedonicus
Eigil Neergaard (DK)

Control of Clavibacter michiganensis subsp. sepedonicus in Bulgaria
Maria Tomalieva (BG)

Ringrot Clavibacter michiganensis subsp. sepedonicus in Ukraine
Tatiana Andriichuk and Pavel Melnik (UA)

Monitoring Clavibacter michiganensis subsp. sepedonicus in Malta
Darren Vella (MT)

Ringrot and brownrot on potatoes in Czech Republic
Vera Humpolickova (CZ)

Emergency response on ringrot outbreak
Neil Giltrap (GB)
Sampling procedures and control measures of nematodes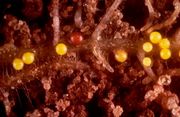 Presentation of the EU sampling procedure for Globodera spp.
Frans Janssen (NL)

Potato cyst nematodes (Globodera spp.) situation in Bulgaria
Mariana Laginova and Todorka Hristova (BG)

Potato cyst nematodes situation in Slovenia
Andrej Potocnik (SI)

Monitoring of Globodera rostochiensis in potato agrocoenosis (in Ukrainian)
Dina Sigareva (UA)

Induction of hatching in different populations of Globodera rostochiensis (in Ukrainian)
Tetyana Zhuravchak (UA)

Testing potatoes for the resistance to golden nematode
Galina Sereda (BY)

Estimation of the sources of resistance to Globodera rostochiensis in selection material of potato in Ukraine (in Ukrainian)
Tetyana Galagan (UA)

Methodology of sampling and extracting cysts of potato nematodes (in Ukrainian)
R. Korzhuk (UA)

Control strategies of potato cyst nematode and root knot nematode on potato using DMDS (dimethyl disulphide)
Jozef Coosemans (BE)

Evaluation of potato genotypes for resistance to the golden cyst nematode Globodera rostochiensis by using laboratory tests and molecular markers
Svetlana Abrossimova (RU)
Emerging pest situations of importance for potato
Monitoring of quarantine organisms on potato carried out in 2008 by the Ukrainian Plant Quarantine state Service (in Ukrainian)
Olga Bashinska (UA)

Meloidogyne minor; finding, pest status and risk
Frans Janssen (NL)

Integrated system of potato protection against pests (in Ukrainian)
Galina Karazhbei (UA)

Potato improvement against virus diseases applying the methods of thermo- and chemotherapy (in Ukrainian)
Tatiana Oliinyk (UA)

PSTVd on ornamental Solanaceae; monitoring and measures
David Michelante (BE)

Phytophthora infestans - the most widely spread and dangerous potato disease (in Ukrainian)
Liudmyla Kalinchyck (UA)
Phytosanitary problems with arable crops other than potatoes
Virus diseases of potatoes (in Ukrainian)
Galina Shevaga (UA)

Possibilities to use liposaccharides for identification of Ralstonia solanacearum by immunochemical analysis
Roman Gritsai and Ivan Golik (UA)

Method of biochemical identification of quarantine organisms
Alexander Sologub (UA)

Methodology of studying grain crops resistance to biotic and abiotic factors
Ivan Moissa (UA)

Reservoirs of Diaporthe helianthi
Tatiana Andriichuk (UA)

Efficacy of options to limit damage from Phytophthora fragariae
Alla Skoreiko (UA)

Polymyxa betae – the main reservoir of beet necrotic yellow vein virus
Elizaveta Zayats and Vladimir Dan'kov (UA)

Some biological characteristics of soybean fungal diseases development in western Ukraine (UA)
Mikhail Solomiichuk (UA)

System of Diabrotica virgifera monitoring in Ukraine
Taras Matskiv and Oksana Sikalo (UA)

Maize breeding in Transcarpathia
Irina Kovach (UA)

Geographical regional modelling of quarantine pests distribution (in Ukrainian)
Roman Kordulyan (UA)

Promising direction of development of biological protection of apple trees against scab and other diseases
Fedor Kalenik (UA)

Monitoring of pine wilt due to pine wood nematode Bursaphelenchus xylophilus
Alexander Korma (UA)