15th Meeting of the Panel on Phytosanitary Measures for Potato
Chernovtsy, UA, 2008-10-09/10
The Panel on Phytosanitary Measures for Potato held its 15th meeting in Ukraine, in Chernovtsy on 2008-10-09/10 together with the European Phytosanitary Conference on potato and other arable crops on the occasion of the 70th anniversary of the Ukrainian Plant Quarantine Research Station (UkrNDSKR). Thanks are due to Mr Melnik and his colleagues for their hospitality and the excellent organization of the Conference and the Panel. Panel members had the chance to visit the research station and to take part to the celebrations of its 70th anniversary.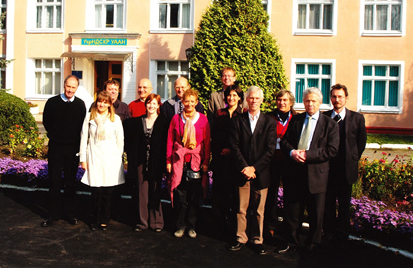 The Panel reviewed the comments received on the draft standard Generic elements for contingency plans and finalized the text. It also worked further on the National regulatory control system for PSTVd to include details so that the two standards could be used together to draft a specific contingency plan. The Panel agreed that existing standards on National regulatory control systems for potato pests will be reviewed and updated at the next meeting.

The Panel took the opportunity of the conference to invite experts on Synchytrium endobioticum to its meeting. This allowed exchange of information between experts from across Europe, in particular from Belarus, Russia and Ukraine, on methods to assess pathotypes of S. endobioticum. The Panel was presented the draft revision of the PM 7/28 Diagnostic Protocol for S. endobioticum under revision by the Panel on Diagnostics.
Mr Jeffries informed the Panel about the recent discussion with NAPPO on the draft standard Guidelines for Regulating Potato Micropropagation Material and Minitubers in Trade between EPPO and NAPPO countries. It was decided to narrow down the scope of the standard to microplants as requirements will be easier to agree on and this appears to be the most pressing industry need. The draft will be further elaborated in 2009.
The Panel will next meet in 2010, probably in Lithuania.