12th Meeting of the Panel on Quarantine Pests for Forestry
Bled, SI, 2008-07-01/03
The 12th meeting of the Panel on Quarantine Pests for Forestry was held in Bled (Slovenia). The Panel discussed the comments raised during country consultation on the EPPO standard for commodity-specific phytosanitary measures for conifers. The Panel was able to finalize this standard in order to present it for approval to the Working Party on Phytosanitary Regulations in 2009.

The Panel elaborated a new standard for commodity-specific phytosanitary measures for Quercus and Castanea and made good progress. However, some issues need further discussion before this standard will be ready for country consultation. Linked to the work on this standard, the Panel was able to observe and discuss the pest problems of Castanea in forests in the South-East of Slovenia.
The Panel started to work on the revision of the National Regulatory Control System of pine wood nematode (Bursaphelenchus xylophilus). Several issues need further discussion especially regarding the appropriate emergency response in case of a finding of B. xylophilus, taking into account the different situations which exist throughout the EPPO region.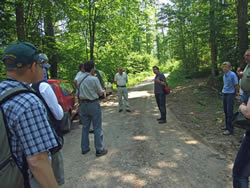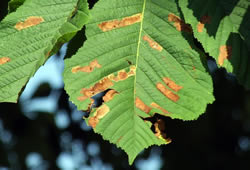 Pictures were kindly provided by B. Hrasovec,
view more pictures