38th Panel Meeting on CPM Affairs - Joint EPPO/NAPPO Meeting
Quebec City, CA, 2008-01-20/25
The 38th meeting of the Panel on CPM Affairs took place in Quebec City, Canada at the kind invitation of the Canadian Food Inspection Agency and NAPPO. Besides this meeting, the 8th joint EPPO/NAPPO meeting was also held during the same week.
The Panel on CPM Affairs discussed in detail the International Standards for Phytosanitary Measures (ISPMs) which will be presented for adoption during the Commission on Phytosanitary Measures – 3 (CPM-3), which will meet on 2008-04-11/07 in Rome.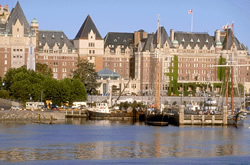 The panel agreed on several recommendations to amend these ISPMs but in general did not anticipate major difficulties with these standards for the EPPO region. The panel considered several other issues which will be on the agenda of the CPM-3 in particular recommendations for improving the standard setting process and the evaluation of the Working of the IPPC and its Institutional Arrangements.
During the joint meeting with NAPPO the main issue was mutual consultation regarding the ISPMs for adoption during CPM-3. An open exchange of views took place and the joint meeting largely agreed on the necessary changes to be made in the draft ISPMs. The joint meeting was briefed on the status of the IPPC Diagnostic Protocol for Thrips palmi. This protocol follows a fast track procedure but faces a formal objection. It was concluded that a proper discussion should take place regarding the main concerns before adjusting the Diagnostic Protocol. Both EPPO and NAPPO are satisfied with the current draft.
The joint meeting exchanged the main issues which EPPO and NAPPO would like to see addressed by the Expert Working Group which will deal with the revision of ISPM 7 and 12. It was agreed that in addition to mutual consultation on draft ISPMs, more in depth discussion of topics (with the revision of ISPM 7 & 12 as an example) was useful for future joint meetings.