EPPO Workshop on Pest Reporting
Lyon (FR, 2007-05-14/16)
As part of its strategy 2006-2009, the Secretariat helps its members with the implementation of International Standards for Phytosanitary Measures (ISPMs) by organizing workshops for NPPOs focusing on implementation difficulties. On the request of its members, the Secretariat organized this Workshop on Pest Reporting. 31 experts from 18 EPPO countries, 1 prospective EPPO country, and the FVO (Food and Veterinary Office) participated in this Workshop led by the EPPO Secretariat.
Key objectives for the Workshop were:
To improve the understanding of reporting obligations, in particular based on ISPMs 17 (Pest reporting), 8 (Determination of a pest status in an area) and 6 (Guidelines for surveillance) and on relevant sections of other international standards (ISPMs 9, Guidelines for pest eradication programmes, and 13, Guidelines for the notification of non-compliance and emergency action)
To compare the reporting procedures of pest reporting, determination of pest status, pest surveillance and eradication existing in different EPPO countries and to discuss problems in implementing pest reporting obligations
To intensify and harmonize pest reporting among the NPPOs of EPPO countries
To clarify what should be reported to the IPPC, EPPO and NPPOs.
The IPPC Secretariat collaborated with the EPPO Secretariat in guiding the Workshop participants through the relevant ISPMs. The participants drafted a list of recommendations as a result of this Workshop (see below).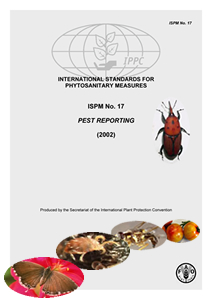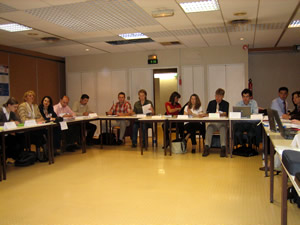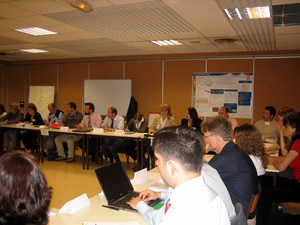 1. General reporting obligations within the framework of IPPC and EPPO
To promote further cooperation between NPPOs and to facilitate the IPPC Secretariat and the EPPO Secretariat in assisting EPPO countries, it is recommended that:
Individual EPPO countries should improve communication with the IPPC Secretariat to comply with their reporting obligations, by using their IPPC contact points
The EPPO Secretariat should organise regular meetings for EPPO countries to improve the implementation of ISPMs.
2. Conclusions and recommendations on pest reporting (ISPM 17)
The following conclusions are noted on the implementation of pest reporting by EPPO countries:
Regular pest reporting and updating by a country contributes to building confidence between neighbouring countries and trading partners and may prevent unnecessary stringent phytosanitary measures by other countries
Cooperation with industry (e.g. nurseries) and research institutions is important to facilitate pest reporting
Ensuring promptness and completeness are the most important challenges for pest reports
Initial reports need not be fully complete when they concern new situations. Some data, for example, the range and distribution of host plants, can be completed at a later date
If a regulated organism has become widespread, it should be reported phytosanitary regulations should be modified
It is noted that pest reporting to EPPO only does not meet the requirements of ISPM 17 but contracting parties should report to the IPPC as well.
To improve the pest reporting by EPPO countries it is recommended that:
Specific organisational procedures within the NPPO should be set up to ensure efficient pest reporting through the official IPPC contact point
A pest report should be limited to a single pest, to promote prompt communication
The first pest detection should preferably be reported within one or two months following it
Reporting should be an ongoing activity, as previous pest reports may need to be improved or updated
When an NPPO concludes that a pest is not present, and that earlier pest records need to be corrected, an official communication should be sent to EPPO. EPPO should update the pest record
EPPO countries and the EPPO Secretariat should use the same format for pest reporting as is used for the IPP (International Phytosanitary Portal)
Reporting absence (including successful eradication) of pests is important, to prevent erroneous or incorrect pest records being used by other parties
Pest reporting should be systematically carried out for both EPPO and the IPP.
3. Reporting and Surveillance (ISPM 6)
The following conclusions are noted regarding pest surveillance and pest reporting by EPPO countries:
Surveillance is an important tool for ensuring pest reporting
For pests which are present in the EPPO region, specific pest surveillance is an important tool to determine pest status and ensure prompt pest reporting in case of outbreaks or further spread.
The Workshop discussed surveillance in more detail, concluding that:
Surveillance for regulated pests which are not present in an area may be based on monitoring pathways for potential entry, such as import checks
Information from export certification systems can be used as an important source of specific survey information.
To improve pest surveillance by EPPO countries it is recommended that:
Specific surveys are carried out in case emergency measures are in force for a pest
Specific surveys are carried out regularly, especially for pests which are present in the EPPO region (A2 pests) but which are not present or not widespread in a country
For pests that are not present, specific surveys may best be targeted at pests which have a high risk for establishing in that area.
4. Reporting and Pest status (ISPM 8)
To improve the reporting of pest status by EPPO countries it is recommended that:
The pest status of all relevant pests (regulated pests, pests of potential risk) should be verified, reviewed and communicated to the EPPO Secretariat and the IPP
In case EPPO countries provide pest records to the EPPO Secretariat for the EPPO reporting service, they are recommended to specify the pest status in the report to EPPO making use of the terminology of ISPM 8 if appropriate
EPPO countries should make use of ISPM 8 for describing pest status as part of a pest report.
5. Reporting and Eradication (ISPM 9)
The following conclusions are noted regarding eradication programmes by EPPO countries:
Availability of contingency plans is important to ensure a speedy and effective response
Methods should be explored to promote early communication of new outbreaks by individual growers to NPPOs, such as insurance or compensation schemes.
Workshop participants were reminded of the EPPO Council decision of 1999 regarding reporting to EPPO, which included:
"1. Each EPPO Member Government should report to the Organization, as required by the New Revised Text of the IPPC:
any points of entry which are specified as the only ones through which consignments of particular plants or plant products may be imported;
any lists of regulated pests which it may establish (using scientific names);
any emergency actions on the detection of pests posing a potential threat to its territories.
2. Each EPPO Member Government should additionally report to the Organization the following information identified in the IPPC, without being specified as reportable to RPPOs:
newly adopted phytosanitary requirements, restrictions and prohibitions;
a description of its official NPPO and of any changes in it;
any significant instances of non-compliance with phytosanitary certification (using the "Notification of interception" forms already recommended by Council in 1992).
3. Each EPPO Member Government should report to the Organization information on:
occurrence, outbreak or spread of pests that may be of immediate or potential danger."