Ad hoc EPPO Workshop on insecticide resistance of Meligethes spp. (pollen beetle) on oilseed rape
Berlin, 2007-09-03/05
The pollen beetle, Meligethes spp., has built up resistance to pyrethroid insecticides in recent years in several EPPO countries, due to the almost exclusive use of this chemistry. Due to the significance of the problem, an ad hoc EPPO Workshop on insecticide resistance of pollen beetle on oilseed rape was held on 2007-09-03/05 at the BBA Berlin-Dahlem, Königin-Luise-Strasse 19, 14195 Berlin, Germany.
The ad hoc Workshop was organized in collaboration with the Federal Biological Research Centre for Agriculture and Forestry (BBA) and the German Federal Ministry of Food, Agriculture and Consumer Protection.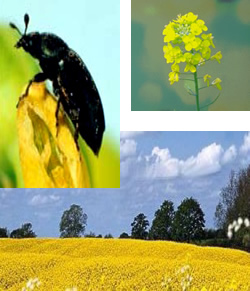 The participants were welcomed by Dr Georg Backhaus, President of the BBA, who kindly accepted to host yet another EPPO workshop. Special thanks are due to Messrs Matussek and Aganese and their colleagues for their successful organization of the meeting. EPPO Secretariat would also like to thank the programme planning committee who helped in structuring this workshop and finalizing the conclusions: Udo Heimbach, BBA Braunschweig; Alan McCaffery, Syngenta, IRAC Chairman; Ralf Nauen, Bayer CropScience, IRAC Vice Chairman; David Richardson, PSD York and Russell Slater, Syngenta, Chairman-IRAC Pollen Beetle team. There were 51 participants from 17 EPPO countries and 11 agrochemical companies.
The aim of this ad hoc workshop was to share knowledge, identify gaps in knowledge and research needs, explore current and potential strategies for control of the pollen beetle, learn from the experience of others, avoid unnecessary duplication of work (e.g. resistance monitoring efforts) and to develop recommendations on resistance management for EPPO member countries.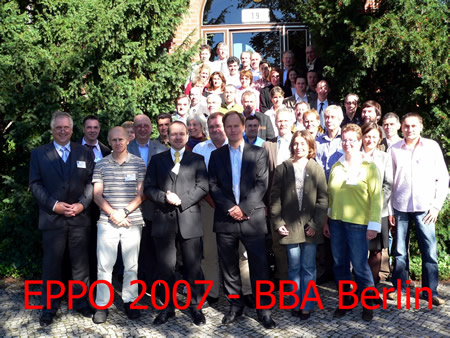 Presentations
The development and nature of pyrethroid resistance in the pollen beetle (Meligethes aeneus) in Europe
Russell Slater, Syngenta, Switzerland and Ralf Nauen, Bayer Crop Science, Germany
Biology, life cycle and host preferences of pollen beetles
Bernd Ulber, University of Göttingen and Thomas Thieme, BTL Sagerheide, Germany
Pollen beetle monitoring, population trends and pesticide usage in the UK
Keith Walters and Phil Northing, CSL, York, United Kingdom
Biological control methods of pest insects in oilseed rape
Heikki Hokkanen, University of Helsinki, Finland
Trapping tactics for reducing insecticide use in pollen beetle control
Samantha Cook and Ian Denholm, Rothamstead Research, United Kingdom
Insecticide mode of action, incidence and mechanisms of resistance
Ralf Nauen, Bayer Crop Science, Germany
Pyrethroid sensitivity monitoring in Germany: Data on different oilseed rape pest insects
Andreas Müller, Udo Heimbach, BBA Braunschweig and Thomas Thieme, BTL, Sagerheide, Germany
Summary of findings from a participant country pollen beetle questionnaire
David Richardson, PSD, York, United Kingdom
Pollen beetle in the UK; the start of a resistance problem?
David Richardson, PSD, York, United Kingdom
Resistance strategy for 2007 in Germany
Udo Heimbach, BBA, Braunschweig, DE
Current situation and resistance strategy in France
Marc Delos, DRAF- SRPV, Toulouse, FR
Current situation and recommendations on controlling pollen beetle on oilseed rape in Switzerland
Jacques Derron, ACW Changins, CH
Current recommendations on controlling pollen beetle on oilseed rape with particular reference to resistance management in Poland
Pawel Wegorek and Joanna Zamoyska, Institute of Plant Protection, Poznan, PL
Resistance management strategy against pollen beetles in Denmark
Lars Hansen, Aarhus University, Research Centre Flakkebjerg, DK
Pyrethroid resistant pollen beetles in Sweden
Göran Gustafsson and Alf Djurberg, Swedish Board of Agriculture, Linköping, SE
Integrated pest management of pollen beetle on oilseed rape in Croatia
Siniša Jelovčan, Faculty of Agriculture, Zagreb, HR
Control of pollen beetle with tau-fluvalinate (240 g/l, EW) and chlorpyriphos-ethyl (250 g/l, CS) in situations of resistance to pyrethroids
Gérald Huart, Makhteshim Agan
The position of Talstar (Bifenthrin) in a strategic resistance management programme in control of Meligethes spp. and other oilseed rape pests
Welf Brandes, Verena Korr, Belchim Crop Protection and Marco Jegerings, FMC
Chlorpyrifos-methyl for the control of pyrethroid resistant Meligethes (pollen beetle) in oilseed rape
Chris Longhurst, J. Fraser, V. Jacquet, M. Miles and A. Zotz,, Dow-AgroSciences
Use of the synergist piperonyl butoxide in combination with a pyrethroid insecticide lambda-cyhalothrin against metabolically resistant pollen beetle, Meligethes aeneus
Stephen Skillman, Syngenta Crop Protection
Experiences in controlling resistant pollen beetle by type I pyrethroid etofenprox in Germany
Hans Glattkowski, B. Saggau and G. Goebel, Spiess-Urania Chemicals
Thiacloprid – a new option for resistance management in European populations of pyrethroid-resistant pollen beetles
Josef Terhardt and Ralf Nauen, Bayer CropScience
Consequences of the inhibition of oxidative metabolism resistance in pyrethroid resistant pollen beetles on the activity of alpha-cypermethrin
Martin Heger and Fabrice Robin, BASF
Insecticide Resistance Action Committee (IRAC) endorsed anti-resistance strategies
Alan McCaffery, Syngenta, United Kingdom
Problems when introducing anti-resistance strategy
Frank Burghause, DLR Bad Kreuznach, Germany
Posters

Pyrethroid resistance status of pollen beetle populations in Germany in 2006 and 2007
U. Heimbach, A. Müller, T. Thieme
Analysis of pollen beetle population structure, insecticide resistance and novel control to improve oilseed protection
N. Kazachokova, Ekbom B., Sarosh B., Forsén L., Meijer J.
Integrated Beneficial Management (IBM) in oilseed rape with tau-fluvalinate
E. E. Spence, G. Huart, D. Karmon
Different methods of monitoring susceptibility of oilseed rape beetles to insecticides
T. Thieme