14th Meeting of the Panel on Phytosanitary Measures for Potato
Ljubljana, 2007-02-13/15
The Panel on Phytosanitary Measures for Potato held its 14th meeting in Ljubljana on 2007-02-13/15 at the kind invitation of Mr A. Potocnik. Thanks are due to him and his colleagues for their hospitality and the excellent organization of the meeting.
The Panel discussed EPPO activities on Synchytrium endobioticum.
It agreed that a harmonized code system should be used to identify pathotypes. The code system defined by Baayen et al. (2006) was found suitable because it combines the numeric code historically used in Western EPPO Countries and the alphabetic code historically used in Eastern EPPO Countries and avoids any ambiguities. This article proposes a new standardized code to be used for the 43 pathotypes currently known and described in Europe. For details, see Baayen RP, Cochius, G, Hendriks, H, Meffert, JP, Bakker, J, Bekker, M, van den Boogert, PHJF, Stachewicz, H, and van Leeuwen, GCM, 2006. History of potato wart disease in Europe – a proposal for harmonisation in defining pathotypes. European Journal of Plant Pathology 116: 21-31.
The Panel noted that historically, pathotypes present in different countries were tested with cultivars specific of these countries, which make it difficult to compare them. It would be useful that all countries use the same set of differentials to identify pathotypes that are really different in the EPPO region. The Panel checked the list of providers for each cultivar specified in the EPPO Diagnostic Protocol for Synchytrium endobioticum PM 7/28 and updated it.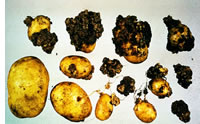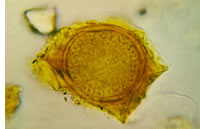 The Panel discussed the benefits of contingency plans and national regulatory control systems in particular for PSTVd. It agreed that a standard defining generic elements for contingency planning should be used in combination with national regulatory control systems (series PM 9). Existing standards from this series will be reviewed at the next Panel meeting to consider the need for further practical details.
The Panel reviewed the comments from country consultation on the draft standard General crop inspection procedure for potato and finalized it. It will be presented to the Working Party on Phytosanitary Regulations for approval.