39th Meeting of the Panel on Phytosanitary Measures
Paris, 2007-03-06/09
The Panel met in Paris at the headquarters of the French NPPO. The main task of this Panel is to evaluate risks presented by specific pests and design phytosanitary measures to avoid their introduction and spread.
EPPO lists of pests recommended for regulation
On a case by case basis, the Panel reviewed the present situation and conclusions from PRA and made the following recommendations to the Working Party:
Additions to the A lists: Puccinia hemerocallidis (A1), Blueberry scorch virus (A2), Fusarium foetens (A2), Megaplatypus mutatus (A2), Tomato infectious chlorosis virus (A2).
Transfer from A1 to A2: Aculops fuschiae, Anoplophora chinensis, Toxoptera citricida.
Pest Risk Management options were revised for Tomato chlorosis crinivirus and Dryocosmus kuriphilus.
Alert List
As usual, the Panel reviewed in detail the EPPO Alert List whose purpose is to warn countries about possible new risks, and in certain cases to propose candidates for PRA and eventually regulation.

For the following pests, the Panel recommended that PRAs should be conducted by Expert Working Groups for PRA: Aulocaspis yasumatsui, Diacolandra frumenti, Metamasius hemipterus, Raoellia indica, X. axonopodis pv. alli. The Panel considered that two of the palm pests could be consider by the same Expert working group.
In an intermediate system, the Panel will carry on reviewing national PRAs to make recommendations to the Working Party. In 2008, the following pests will be considered: Lygus lineolaris, Phytophthora kernoviae, X. axonopodis pv. poinsetiicola, Diaphania indica, Leucinodes orbonalis.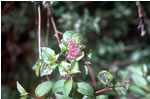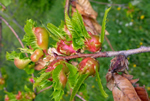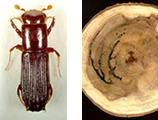 Considering that the alert had been given and that no further action was needed, the Panel decided to delete: Chrysodeixis eriosoma, Corythucha arcuata, Scirtothrips perseae, Discula destructiva, Phakopsora euvitis, Brenneria quercina, Xanthomonas arboricola pv. fragariae, Citrus sudden death, Watermelon chlorotic stunt virus.
Evaluation of the new PRA process in EPPO
The Panel reviewed the PRAs produced by 2 Expert Working Groups and discussed how to improve the new PRA process. It recommended a longer consultation period (at least one month) for core members that should review the PRA. It also recommended selecting a Steward within the Expert Working Group in charge to draft a pre-PRA in order to identify missing information.
Other topics
The Panel agreed on a new presentation for the Action List, so that it is more practical for NPPOs.

The Panel discussed a potential programme on Regulated Non-Quarantine Pests for EPPO. It stressed that it was a difficult issue that would need a long-term programme. The Working Party will have to decide if it wants to dedicate specific resources for it.

The Panel agreed that the Panel on Safe Use of Biological Control should be reactivated.