11th Meeting of the Panel on Quarantine Pests for Forestry
(Lisbon, PT, 2007-03-20/22)
The Panel discussed forest pests included into the EPPO Alert list and recommended several deletions (Corythucha arcuata, Scolytus schevyrewi and Brenneria quercina) and one addition (Ips pertubatus).
The Panel reviewed the phytosanitary situation in forestry in EPPO countries and concluded that in addition to the introduced species (e.g. Bursaphelenchus xylophilus, Anoplophora chinensis, Anoplophora glabripennis and Agrilus planipennis) native forest pests may now also represent increasing risks due to climate changes in the EPPO region.

The Panel discussed in detail the draft standard for 'Commodity-specific phytosanitary measures for Coniferae' and concluded that it was ready to be sent out for country consultation. The Panel also discussed its priority tasks for the future (development of phytosanitary measures and procedures in forestry, development of new commodity standards, revision of standards, etc.).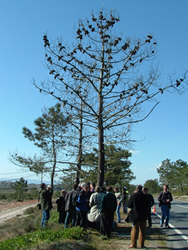 A technical visit to the pine forests infested by Bursaphelenchus xylophilus (pine wood nematode) helped the Panel members to clearly understand the situation and impact of this pest. It underlined the need for further work in the development of requirements for pest-free areas for B. xylophilus.
Technical visit Pictures by A. Orlinski