EPPO Workshop on Mutual Recognition of Minor Uses
Berlin, 2006-10-24/26
Introduction and background
This report presents the conclusions and recommendations made by the EPPO Workshop on Mutual Recognition of Minor Uses, held at BBA Berlin-Dahlem, on 24 - 26 October 2006. The Workshop was organized in collaboration with the German Federal Ministry of Food, Agriculture and Consumer Protection and the Federal Biological Research Centre for Agriculture and Forestry (BBA). Special thanks are due to Messrs Wick, Matussek and Zornbach and their colleagues for their successful organization of the meeting.
The participants were welcomed by Dr Georg Backhaus, Director of BBA, and Dr Bernd Hermelingmeier from the Ministry of Food, Agriculture and Consumer Protection. There were 65 participants from 19 EPPO countries, Australia, Canada, the USA and representatives of ECPA.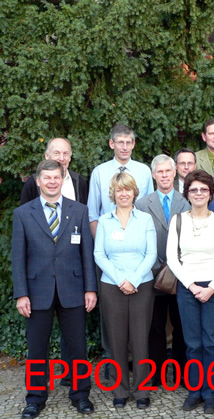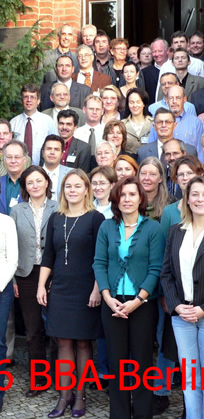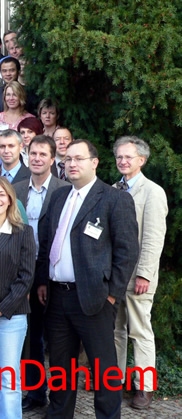 Courtesy BBA Dahlem, DE
All countries face problems in terms of pesticide availability for minor crops. Minor Uses has become an international problem and cooperation between countries has increased remarkably in recent years. However, coordination between all interested parties still needs to be facilitated and improved. The purpose of the Workshop was to present and discuss problems related to authorization of minor uses and to find solutions for minor use problems.
Participants identified possible activities that could be undertaken to follow up on the minor uses workshop (these are also available in a form of a PowerPoint presentation):
The potential role for EPPO would be to:
Promote the use of EPPO Codes internationally
Provide a platform for the exchange of technical information (e.g. work on databases and their maintenance, manage funding, facilitate group activities), when/if resources could be made available
Further harmonize data requirements for efficacy
Continue developing standards and guidelines (e.g. new standard on principles of mutual recognition)
Extrapolation, crop and pest grouping
Harmonize crops and pests groupings, relevant for efficacy and in line with MRL list, by taking into account work on a global level and develop a guidance document which uses EPPO codes.
Further develop "principles for extrapolation" as well as a comprehensive list (to enable extrapolation beyond a list).
Recommendations addressed to the European Commission
General
Develop a clear procedure for Minor uses mutual recognition
Have a streamlined system for minor use authorizations (description, trials, databases…)
Further develop PSD approach to residue extrapolation
Provide legal provisions (e.g. liability, provision for additional data protection for the whole application, if minor uses are included, fast-track procedures)
Enhance the organization of work on minor uses within the EU
Explore possibilities for collaboration and activities outside the EU.
Funding for minor uses
Develop an IR-4 type system in the EU
Maintain and make available a database of Minor use trials
Create a database of Minor uses and authorizations.
Recommendations addressed to National Authorities
Adopt guidance documents regarding EPPO efficacy standards and explore the consequences of additional (i.e. national) data requirements
Implement specific incentives for Minor uses (e.g. reduced/no fee, data protection, simplified and predictable procedure…)
Participate in joint projects, make expertise and funding available for international activities
Communicate about their national activities on minor use work (preferably making this available in English)
Communicate positively and transparently
Maintain a priority list of minor use gaps
Provide information for databases supporting minor uses
Use a common template with standard information for the EU Technical Group collaborative projects and also a standardized report
Promote an atmosphere of trust (e.g. between regulators)
Other interested parties
Support funding (all interested parties)
Support projects by providing resources
Communicate
Nominate contact points for minor uses
Promote an international outlook for minor uses
Presentations
The Workshop was organized in alternating lecture sessions, smaller working groups and plenary discussion sessions. The lecture session started with Nico van Opstal (Director-General of EPPO) presenting EPPO and its possible role in Minor Uses issues, followed by Vlasta Zlof (EPPO) talking about EPPO's work on the harmonization of registration of plant protection products, focusing on the new EPPO Standard on 'Harmonized classification and coding of the uses of plant protection product'. An overview of the Commission proposal for a Regulation replacing Directive 91/414/EEC was given by Francesca Arena(DG SANCO, Bruxelles). All the papers generated very interesting discussions, which proved that, although differences among countries as to what constitutes a minor use may exist, a mutual agreement is achievable. The lecture session then provided a variety of perspectives on Minor Uses problems, as follows:
Lecture session
"Challenges Faced by the IR-4 Program and U.S. Specialty Crop Growers"
R.E. Holm, J.J. Baron and D.E. Kunkel (IR-4 Project, US)
"Canada's Minor Use programme current/future approach and strategy"
Andrew Russell (Canadian Pest Management Regulatory Agency, Ottawa, CA)
"Keeping Britain Growing – A UK Growers Perspective"
Vivian Powell (Horticultural Development Council) and Sarah Pettitt (UK National Farmers Union)
"Minor Use Authorisations – A Structured Approach"
Peter Watson (Dow Agrosciences, representing ECPA)
"EC funded Efficacy Extrapolation project"
David Richardson (Pesticide Safety Directorate, York, GB)
"Developing efficacy and crop safety guidelines for minor uses – an update from Australia"
Alan Norden (Australian Pesticides and Veterinary Medicines Authority, Kingston, AUS)
"An Efficacy Crop-Grouping / Data-Extrapolation Scheme for Insecticides Registration in Canada"
Erning Han (Canadian Pest Management Regulatory Agency, Ottawa, CA)
"Establishment of Maximum Residue Limits for minor crops"
Erica Müller (Plant Protection Service, Wageningen, NL)
"Daily problems in closing the minor use gaps"
Mario Wick (The Federal Biological Research Centre for Agriculture and Forestry, Kleinmachnow, DE)
Working group sessions
Workshop participants were divided into three groups for the working group sessions. One group discussed the topic of 'Increasing plant protection product availability for minor uses: technical considerations' and two groups discussed 'International harmonization and cooperation'. Discussions were guided by the questions listed below, enabling participants to discuss these subjects in greater depth.
(I) Increasing plant protection product availability for minor uses: technical considerations (Chairman: David Richardson; Rapporteur: Andy Leadbeater)
How much information is needed for the authorization? Data requirements, format for a dossier?
Extrapolation of efficacy and phytotoxicity data (cover how far extrapolation can go…)
Technical and regulatory barriers to mutual recognition; what they are and how they can be removed
The consequences of the existing and new regulation: how will minor uses be affected by the revised Directive 91/414/EEC? (Comparative assessment)
Harmonized classification and coding of uses of plant protection products (crop groupings, target groupings)
Is it desirable and possible to establish European IR-4 project?
What could be a role for EPPO?
(II) International harmonization and cooperation (Chairman Fredericke Damme; Rapporteur: Susan Sütterlin)
(III) International harmonization and cooperation Chairman Sylvie Malezieux; Rapporteur: Ann de Cock
What can be done straight away to get mutual recognition running? (Who does what already?)
What needs to be changed in the future for the mutual recognition to really work, what requirements are needed in the future? What are countries, growers, industry and other groups willing to do in the future to facilitate cooperation?
What are the regulatory barriers for authorization of plant protection products for minor uses (data requirements …)
How to overcome these barriers

policy initiatives (learn about different mechanisms in different countries)
data protection issues to be addressed
growers' roles
technical mechanisms (mutual recognition, extrapolation, zonal approach (zonal authorization), sharing trials)
the consequences of the existing and new regulation: how will minor uses be affected by the revised Directive 91/414/EEC? (Comparative assessment)
liability of minor uses registrations (regulators to address it)
funding

Information sharing (data exchange, different tools, codes, databases…)
What could be a role for EPPO?
The working group sessions were followed by a plenary session in which the groups gave a short report on their discussion and their conclusions.
Plenary session
The final session of the Workshop developed its conclusions and recommendations, which it hoped would be noted by the registration authorities and the crop protection industry, by the European Commission and by the EPPO Working Party on Plant Protection Products. The Workshop agreed that this meeting had been a good opportunity for participants to exchange their views and to meet in three years time.