Conference on Computer Aids for Plant Protection
Wageningen (NL), 2006-10-17/19
The EPPO Conference on Computer Aids for Plant Protection took place in Wageningen (NL) and was organized in cooperation with the Netherlands Plant Protection Service. 60 participants from 18 countries attended this Conference and were welcomed by R.J.T. van Lint (Director of Plant Protection Service of the Netherlands) and N.A. van Opstal (Director General of EPPO). The Conference combined 38 spoken presentations with practical demonstrations of computer models, databases and decision support schemes. A session was dedicated to practical demonstrations of computer systems so that participants could try them and share their experience.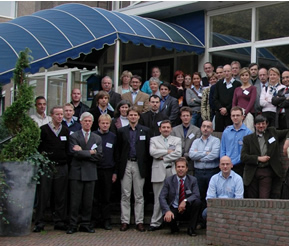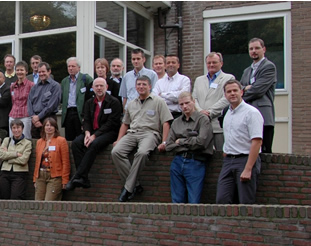 Photo: Gerard Vos
A large number of forecasting models were presented on pests and crops (e.g. Phytophthora infestans, Fusarium on cereals, Plasmopara viticola, Cercospora beticola, insect pests in orchards). Decision-support schemes developed to help growers to better define their control strategies and reduce chemical treatments were also presented.
The use of GIS systems, the difficulties encountered in managing climatic data, the possible impact of climate changes were discussed by the participants. For the first time, computer tools used in Pest Risk Analysis were presented, as well as models designed to help NPPOs to rationalize their activities (inspections, surveillance, information exchange).
This Conference followed in the sequence of EPPO meetings on computer applications in plant protection, which have previously been held in France (1989), Sweden (1992), Germany (1995), Italy (1999) and United Kingdom (2002), and it has been proposed to organize the next one in Turkey in 2009. It was also suggested that the Conference could widen its scope to models predicting entry/establishment of pests, costs/benefit analysis and could as well include the management of meteorological data as a special topic (e.g. for half a day).
Warm thanks are due to Erno Bouma and his colleagues for the excellent organization of the Conference, as well as for the interesting visit to the tropical/desert/marine glasshouses of the Burger Zoo and the most enjoyable dinner at the Castle of Doorwerth where the music was played by the Dutch Plant Protection Services' music band.
---
Presentations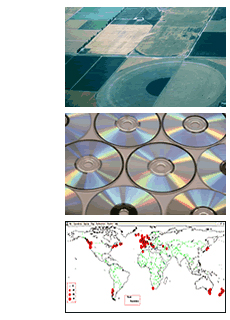 Opening lecture
E. Bouma (NL) - Computer aids for plant health: historical perspective and future
What is the trend in forecasting models?
J. Samietz (CH) – Phenology modeling of major insect pests in fruit orchards: development and biological basics of the forecasting tool SOPRA
T. Caffi (IT) – Empirical versus mechanistic models for primary infections of Plasmopara viticola
Z. Dancshazy (HU) – IT applications in Hungarian plant protection, focusing on GIS
P. Raatjes (NL) – Computer aided disease control: the only way to go
L.R. Peacock (NZ) – The application of artificial neural networks in plant protection
K.E. Henriksen (DK) – Crop protection online – present version
G. Brodal (NO) – VIPS-Forecasting pests and diseases in Norway
Forecasting models for specific pests
T. Musa (CH) – Forecasting of Fusarium head blight and Deoxynivalenol in wheat with FUSAPROG
A. Dalla Marta (IT) - Transboundary system for grapevine downy mildew risk evaluation at territorial scale (P.Rada project)
A. Atlamaz (TR) - Importance of forecasting and warning system in integrated pest management applications of apple orchards in Turkey
S. Giosue (IT) - ASCAB: a simulation model for Venturia inaequalis infection on apple
S. Giosue (IT) – Downy mildew outbreaks on grapevine under climate change
T. Zeuner (DE) – Use of Geographic Information Systems in Warning Service for Late Blight
B. Keil (DE) - AgmedaWin: A tool for easy and flexible management of meteorological data
P. Racca (DE) – CERCBET 3: A forecaster for epidemic development of Cercospora beticola
B. Kleinhenz (DE) – SIMBLIGHT: a new model to forecast first outbreak of Potato Late Blight
A. von Tiedemann (DE) – A crop loss-related forecasting model for control of Sclerotinia Stem Rot in winter oilseed rape
The continuing challenge of Phytophthora infestans
G. Kessel (NL) – Reduced fungicide dose rates on potato late blight resistant potato cultivars, development, decision support and deployment in the Netherlands
E. Çakir (TR) - Prediction studies supported by computer on potato late blight in Central Anatolia
Tools for PRA: a need for more IT development
R. Baker (UK) – Mapping endangered areas in Pest Risk Analyses: the challenge of Phytophthora ramorum
D. Griessinger (EPPO) – Computer aided decision support scheme for Pest Risk Analyses
Fundamental: Databases for Plant Protection
P. Oostelbos (NL) – Description, applications and developments of the Dutch Crop Protection Database
A.S. Roy (EPPO) – Development and uses of EPPO databases
Decision support schemes: increasingly important
V. Rossi (IT) – A decision support system for Fusarium head blight on wheat
P. Racca (DE) – SIMPEROTA1/3: A decision support system for blue mold disease in tobacco
P. Racca (DE) – Control of Colorado potato beetle with SIMLEP decision support system
L. N. Jorgensen (DK) – Decision support systems: barriers and farmers need of support
P. Racca (DE) – PUCREC: A decision support system for the control of leaf rust in winter rye and winter wheat
B. Evenhuis (NL) – Decision support system (DSS) to control grey mould in strawberry cultivation should be adapted to agricultural management
M. Rohrig (DE) - www.isip.de - online plant protection information in Germany
G. Brodal (NO) – VIPS – Forecasting pests and diseases in Norway
T. Been (NL) – NemaDecide: a decision support system for quarantine nematodes in potatoes
J. G. Hansen (DK) - Eucablight: collating and analyzing plant pathology data on a European scale
Models and pest management: promising areas
A. Breukers (NL) – Towards a cost-effective control of brown rot control policy: development of a bio-economic model
I. Surkov (NL) – Can the probability to reject an imported lot due to harmful organisms be predicted?
I. Surkov (NL) – A model of optimal allocation of resources for import inspection
H. Meissner (USA) – Gathering pest intelligence from open source data