Ad hoc Panel on Resistance Risk Assessment
Basel, CH, 2006-02-02/03
The 8th meeting of the ad hoc Panel on Resistance Risk Assessment was organized in response to recommendations made by the Working Party on Plant Protection Products (Skopje, 2005) and by the Workshop on the Interpretation and Use of the EPPO Standard on Resistance Risk Analysis (Bologna, IT, 2004). The aim was to decide whether there is a need to create a permanent EPPO Panel on Resistance and what its tasks would be.
The meeting took place at the Syngenta site in Basel and thanks are due to Mr Leadbeater for hosting the meeting and for making all the local arrangements. Thanks are also due to him and his colleagues for organizing a very interesting and informative visit to Syngenta's research facilities in Stein.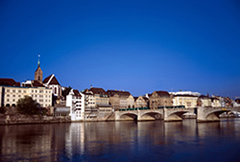 The following important topics were addressed: work of Resistance Action Committees, role of national or regional expert resistance action groups, databases on resistance, role of EPPO in collecting and disseminating information on the management of resistance and in agreeing regional resistance management strategies, possibilities for issuing more advisory information on the presentation and use of sensitivity data, susceptibility test methods. The ad hoc Panel determined that there was a need for EPPO to be actively involved in resistance issues and recommended the creation of a permanent EPPO Panel on Resistance to Plant Protection Products. Terms of reference of the future Panel were drafted and its tasks defined. The creation of a new Panel and its terms of reference need to be approved by the Working Party on Plant Protection Products, Executive Committee and Council.