4th Meeting of the ad hoc Panel on
technical requirements for laboratories
Le Rheu, FR, 2006-07-04/06
The 4th Meeting of the ad hoc Panel on technical requirements for laboratories was held in Rennes on 2006-07-04/06, at the National Laboratory of the French NPPO.
The Panel had the opportunity to visit the Potato Quarantine Station and the National Laboratory on quarantine nematodes, which are both accredited laboratories. This allowed constructive exchange on how to implement accreditation in a diagnostic laboratory.
After its previous meeting, the Panel decided to draft two Standards: one on accreditation and one on basic requirements for a quality system. During this meeting, the Panel elaborated further the draft on Basic requirements for quality assurance.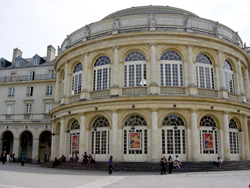 The Panel also discussed priorities for future EPPO activities in the field of diagnosis and quality assurance. It had a preliminary brainstorm on the programme for the Workshop on Quality programmes and accreditation for laboratories to be held in Copenhagen on 2007-12-04/06.

Because the work of the Panel had been identified as a priority in the Strategic Plan for EPPO, it was decided that the Panel will continue meeting twice a year. The next meetings are planned on 2007-01-30/31 in Merelbeke (BE) and on 2007-07-03/06 in Vilnius.

Thanks are due to Geraldine Anthoine and her colleagues for the fine organization of the meeting and social events. The Panel enjoyed typical food from Brittany. It also had the opportunity to visit Rennes and to take part in the celebration of France's qualification for the World Cup Final in Germany.