43rd Meeting of the Working Party on Phytosanitary Regulations
Minsk, Belarus, 2005-06-21/24
The 43rd meeting of the Working Party on Phytosanitary Regulations took place in Minsk, on 2005-06-21/24 at the kind invitation of the Belarus NPPO. The Working Party reviewed the work of the Panels placed under its authority, directed their future work, and made a number of recommendations to EPPO Council. It also discussed global phytosanitary issues.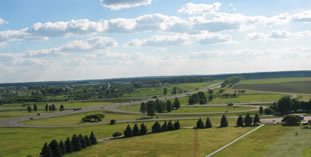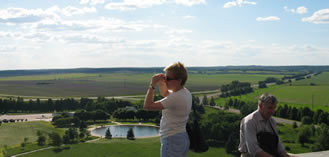 All pictures were kindly provided by the Belarus NPPO – view more


EPPO Standards
The following EPPO Standards were considered ready to be submitted for approval by Executive Committee and Council in September 2005:
General Phytosanitary Measures (series PM 1)
Revision of PM 1/2, by addition to the EPPO Action list of pests absent from the region (A1): Sirococcus clavigignenti-juglandacearum, Rhynchophorus palmarum; pests present in the region (A2): Dendrolimus superans, Hydrocotyle ranunculoides, Lymantria mathura, Lysichiton americanus, Strobilomya viaria, and by transfer of Rhagoletis cingulata from A1 to A2 list.

Phytosanitary procedures (series PM 3)
Intentional import of live organisms that are potential plant pests
Sampling for visual inspection of consignments
Production of pathogen-free microplants of potato (revision of PM 3/62)
Production of pathogen-free minitubers of potato (revision of PM 3/63)
Management of plant health risks associated with the use of biowaste of plant origin

Schemes for the production of healthy plants for planting (series PM4)
Certification scheme for olive (revision of PM 4/17)
Certification scheme for Ribes (revision of PM 4/9)

Diagnostics (series PM 7)
Virus: American plum line pattern ilarvirus
Phytoplasma: Lime witches' broom phytoplasma ('Candidatus Phytoplasma aurantifoliae'), Pear decline phytoplasma ('Candidatus Phytoplasma pyri'), Apple Proliferation phytoplasma ('Candidatus Phytoplasma mali'), Grapevine flavescence dorée
Chromist: Phytophthora ramorum
Insects: Eotetranychus lewisi, Lepidosaphes ussuriensis, Maconellicoccus hirsutus, Opogona sacchari, Scrobipalpopsis solanivora, Thrips palmi
Bacteria: Burkholderia caryophylli, Clavibacter michiganesis pv. sepedonicus, Pantoea stewartii subsp. stewartii, Xanthomonas arboricola pv. pruni, Xanthomonas fragariae

National regulatory control system (series PM9)
Phytosanitary Procedure for Diabrotica virgifera

ICPM issues
The Working Party was informed about subjects discussed by the Interim Commission for Phytosanitary Measures (ICPM) and by the Standards Committee. The Working Party discussed the issue of pest reporting on the IPPC International Phytosanitary Portal and recommended to organize a Workshop on this subject in 2006. The Working Party recommended that further discussion should be conducted on the issues of recognition of pest-free areas and areas of low pest prevalence, and of electronic certification. The Working Party recognized the importance that Russian-speaking countries should be involved in global plant health issues. To achieve this, the designation of an expert from a Russian-speaking country as a member of the Panel on ICPM affairs was strongly recommended. The Secretariat will also organize, possibly in 2006, a meeting in Russian, on ICPM issues.
PRA
The Working Party approved the creation of a new panel for PRA. This Panel should perform pest risk assessment on selected pests to determine whether they present a significant risk for the PRA area (usually the EPPO region) and to identify the endangered area within that area. It should perform pest risk management on these pests by identification and evaluation of possible phytosanitary measures and by selecting a range of options that provide a significant reduction of the risk of introduction and spread of the pest. In order to achieve the flexibility, the Panel will have a core membership to ensure consistency, together with ad hoc membership.
Concerning the EPPO decision-support scheme for Pest Risk Analysis for quarantine pests, the Working Party recommended for a better management of the standards on PRA, that the procedure for adoption should be modified and that the new versions of EPPO PRA Standards should be approved every year by the Working Party.
EPPO Lists
The Working Party agreed to the creation of the Action List, including pests which have been recommended for regulation by Council but which are not yet regulated by EPPO Member Countries. Such an Action List will help to draw the attention of EPPO Members to these pests that should actively be considered for regulation. This list will be maintained on the website and submitted every year to the Working Party on Phytosanitary Regulations. If no country decides to regulate a pest on the Action List after a certain time, it may be withdrawn.
The Working Party also recommended to establish a procedure for the deletion of pests from EPPO lists of pests proposed for regulation.
Other topics
The Working Party reviewed the progress report of the Panel on Alien Invasive Species and approved the EPPO List of Invasive Alien Plants. This list includes plants that have been identified to pose an important threat to plant health, environment and biodiversity in the EPPO region. EPPO countries should be encouraged to take measures to prevent their further introduction and spread. The EPPO list of invasive alien plants will be available on the EPPO website.

The following draft standards were recommended for country consultation:
Management and technical requirements for laboratories conducting pest diagnosis
Purpose of EPPO diagnostic protocols
Phytosanitary procedure on Meloidogyne chitwoodii and M. fallax: sampling of tubers for detection
Export certification and import compliance checking for potato tubers
Guidelines for intentional import of invasive alien plants or potentially invasive alien plants
Certification scheme for Sambucus
Certification scheme for Populus and Salix
The Working Party was informed of all standards being developed by the Organization. The situation of Toxoptera citricida was considered, and it was recommended that all citrus-growing countries should conduct surveys on this pest.