EPPO Workshop on Synchytrium endobioticum
Paris, 2005-12-13/14
29 participants from 17 countries took part in the EPPO Workshop on Synchytrium endobioticum held in Paris on 2005-12-13/14. The Workshop began with presentations on different aspects of potato wart disease and was followed by discussions to identify future work to be done within the EPPO framework.
The following issues were discussed: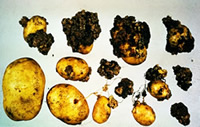 Evaluation of resistance of potato varieties
Participants stressed that variety testing for resistance should be harmonized in the EPPO region. They saw an interest in better defining intermediate categories such as slightly susceptible and weakly resistant as used in scales of EPPO Diagnostic Protocol PM 7/28 on Synchytrium endobioticum. Further discussions are needed on the most sensitive method to evaluate resistance and on the added value of field tests in such evaluation.
Pathotypes of Synchytrium endobioticum
The participants noted that different pathotypes occurred in the western and eastern part of the EPPO region. They thought that a research project should be initiated to identify and compare pathotypes present in the EPPO Region.
Revision of EPPO Diagnostic Protocol PM 7/28
Most countries represented at the Workshop use the EPPO Diagnostic Protocol PM 7/28 to identify Synchytrium endobioticum. This protocol was adopted in 2003 and participants proposed that it should be revised to include a tube test as an alternative to the pot test, adjust the number of tubers in the pot test, include description of direct soil examination, include new methods for soil extraction. It was also suggested to include additional susceptible potato varieties to test for specific pathotypes and to update the list of providers for each variety to ensure that they are readily available to test for pathotypes.
Revision of EPPO Standard PM 3/59 Synchytrium endobioticum: soil tests and descheduling of previously infested plots
Participants shared their experience with descheduling. Countries represented at the Workshop use EPPO Standard PM 3/59 Synchytrium endobioticum: soil tests and descheduling of previously infested plots. It was noted that no countries currently apply partial descheduling. Provisions for partial descheduling exist in The Netherlands but are not implemented because of the EU Council Directive of 8 December 1969 on control of potato wart disease.
Participants considered that it was too risky to allow partial descheduling without first testing the soil, and stressed the need to ensure that inoculum level is lower than 5 sporangia per gram of soil before allowing partial descheduling.
As preliminary results have shown that no viable sporangia could be found in infested fields after 40 years in the absence of any susceptible crops, the Workshop suggested to envisage deletion of soil test before descheduling when outbreaks are older than 50 years (and the field history proves that no susceptible crops have been grown during this period).
Recent research shows that bioassays are now more sensitive than when PM 3/59 was drafted and this should now be considered.
The EPPO Standards PM 7/28 and PM 3/59 should be revised together for consistency.
Measures for fields surrounding infested plots
The Workshop recommended to develop guidance on national measures against S. endobioticum (e.g. size of buffer zone, use of weakly resistant varieties in the buffer zone) in an EPPO Standard in Series PM 9 National Regulatory Control System.
The EPPO Panel on European Phytosanitary Measures for Potato will consider further the recommendations of this Workshop at its next meeting in 2006-02-21/23.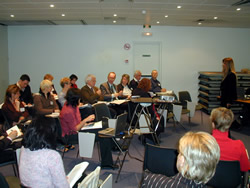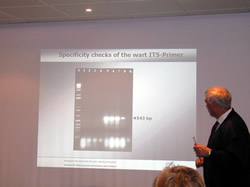 All pictures of the meeting were kindly provided by Richard Malik
Presentations
Synchytrium endobioticum: situation, pathotypes and variety resistance
Gerard van LEEUWEN
Occurrence of new pathotypes of Synchytrium endobioticum in Europe, and management options to control the disease
Emel CAKIR
Some studies on Potato Wart (Synchytrium endobioticum) in Turkey
Miroslav HUSAK
Potato wart disease (Synchytrium endobioticum) in the Czech Republic
Janina BUTRYMOWICZ
The occurrence of pathotypes of Synchytrium endobioticum in Poland
Frank NIEPOLD
Methods for evaluation of potato variety resistance against potato wart
Alexandra SCHLENZIG
Studies on resting spores of potato wart disease in Scotland
Isla BROWNING
Some aspects of wart susceptibility testing
Gerard van LEEUWEN
Resistance of potato cultivars to Synchytrium endobioticum in field and laboratory tests, risk of secondary infection, and implications for phytosanitary regulations
Experience with descheduling
Peter REED
Experience of de-scheduling for potato wart disease in England and Wales
George LITTLE
Potato wart descheduling in Northern Ireland
Janina BUTRYMOWICZ
Polish experience with longevity of Synchytrium endobioticum resting sporangia in soil and de-scheduling of previously infested fields