17th Meeting of the Panel on Certification of fruit crops
Bordeaux (FR), 2005-06-07/09
This Panel is responsible for the preparation of certification schemes for fruit crops and it now also contributes to the preparation of diagnostic protocols for regulated pests. The Panel met at the INRA station in Bordeaux, which gave the participants the opportunity to hear about research done in France on biology and pathology of fruit crops.
Certification schemes
New schemes
The draft certification schemes for Sambucus, Populus and Salix were finalized by the Panel. These texts will be presented to the Working Party for first approval and sent out for country consultation.
Revision of existing schemes
The Panel considered that a revised version of the certification scheme for olive was ready for approval by the Working Party and Council. A revision of the Ribes scheme was also finalized during the meeting and is being sent out for consultation. Certification schemes for grapevine, Rubus and strawberry will be studied again at the next Panel. For the moment, no immediate revision was proposed for citrus and hop, but for Vaccinium a revised draft will be prepared for the next meeting.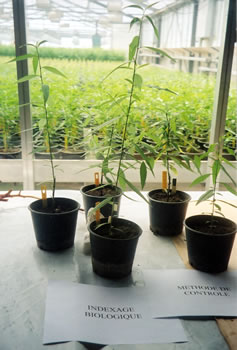 Diagnostic protocols
Draft protocols for apple proliferation, grapevine flavescence dorée, American plum line pattern ilarvirus, lime witches' broom and pear decline were finalized and will be submitted for approval to Working Party and Council. Several Panel members agreed to prepared draft protocols for the next meeting on: European stone fruit yellows, Spiroplasma citri, Little cherry and strawberry viruses.
Finally, the Panel discussed the practical difficulties of sampling and testing Prunus seeds for Prune dwarf and Prunus necrotic ringspot ilarviruses. It concluded that a summary of the situation from different countries with details on test methods used could be prepared for the next meeting as a basis for a draft standard. The current problems posed by European stone fruit yellows phytoplasma (EU Annexes) in orchards were raised, and it was considered that there was a need to re-discuss the quarantine pest status of this pathogen. After the meeting, the participants had a most interesting visit to CTIFL (Centre Technique Interprofessionnel des Fruits et Légumes) near Bergerac, and to a fruit tree nursery, where technical discussions on certification and virus diseases of fruit crops could continue. Warm thanks are due to M. Lemonnier and his colleagues for the fine organization of this meeting.