34th Meeting on the Working Party on Plant Protection Products
Bishkek, 2004-05-18/20
The 34th Meeting of the Working Party on Plant Protection Products took place in Bishkek on 18-20 May 2004, at the kind invitation of the Kyrgyz Department for Plant Protection and Ministry of Agriculture, Water Resources and Processing Industry.
There were 20 participants from 12 EPPO countries and ECPA.
Our hosts gave us a warm welcome, provided excellent facilities for the meeting and organized very interesting technical visits. It was a marvellous experience for all participants to see the natural beauties of this mountainous country (ninety percent of the country's area is over 1300 m in elevation) and to learn about their agriculture and plant protection. Although only 7% of the Kyrgyz Republic's land is arable, the most important sector of its economy is agriculture. About 30% of people are directly dependent upon agriculture. The main crops are wheat, barley, maize, potatoes, melons, oilseed crops, sugar beet, fodder crops, vegetables of many kinds, cotton and tobacco.
The Working Party reviewed the work of the Panels placed under its authority, directed their future work and made a number of recommendations to EPPO Council. Some of the major points of decisions and recommendations are summarized here.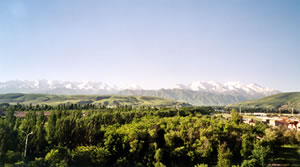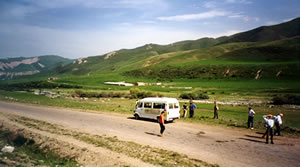 Tian shan (Celestial) Mountains - Courtesy V. Zlof
EPPO Standards for approval
The following revised EPPO standards in the series PP1 on efficacy evaluation of plant protection products are to be submitted for approval by Executive Committee and Council in September:
General standards : Definition of plant protection product (The Working Party agreed that a short text on definition of a plant protection product, which was once an integral part of the Terms of Reference, could be incorporated into the current set of standards and published.)
Specific standards : Athalia rosae, Plutella xylostella and Autographa gamma in arable Brassicaceae; Haplodiplosis equestis in cereals; Oulema spp. in cereals; Thysanoptera in cereals; White grubs (Scarabaeid larvae), Leafminers on cereals; Aphids in sunflower; Aphids in tobacco; Aphids in beet; Aphids on potato; Aphids on leguminous crops, Delia coarctata (revised PP 1/10); Meligethes aeneus on rape (revised PP 1/178) and Wireworms (revised PP 1/46).
The Good Plant Protection standard on stone fruits (series PP 2) is to be approved by correspondence in time for the Executive Committee and Council meeting in September.
The following standards were agreed to be sent by the Secretariat to member countries for comment:
Design and analysis of efficacy evaluation trials (revision PP 1/152)
Effects of plant protection products on transformation processes
Dose expression of plant protection products
Programme of activity
The Working Party re-considered its future activities with the possible expansion into other areas of plant protection. The following important topics were discussed: mutual recognition of the data, comparability of efficacy evaluation data with emphasis on comparable climates, problems with resistance, minor use problems, database on uses of plant protection products, ecological farming. The Working Party decided that an ad hoc Panel should be created to set a scope of a database on uses of plant protection products.
The next Working Party meeting is planned to take place in Skopje, 2004-05-18/20.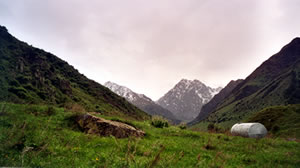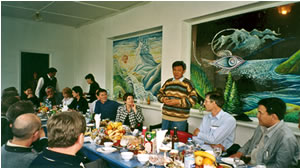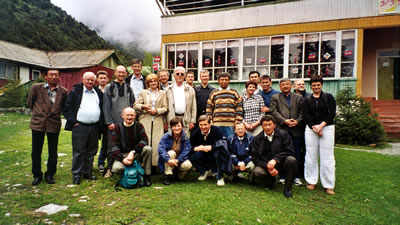 Ala-Archa - State Nature Park (south of Bishkek)