EPPO Workshop on ISPM no. 15 - Guidelines for Regulating
Wood Packaging Material in International Trade
Sankt Peterburg, RU, 2004-12-06/08
The Workshop was attended by 55 participants from 16 EPPO member countries. The Workshop was opened by Mr Popovich (Federal Service for Veterinary and Phytosanitary Surveillance of Russia) and an overview of ISPM No.15 "Guidelines for Regulating Wood Packaging in International Trade" was given by Mr Larson (IPPC Secretariat). 8 EPPO member countries presented the stage of implementation of ISPM 15 in their countries in particular the programmes which have been put in place to ensure that wood packaging exported from their countries complies with ISPM N°15 requirements.
Download the full report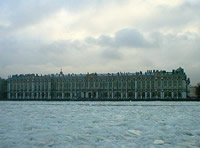 Most countries attending the Workshop indicated that they were in the process of establishing programmes for the treatment of wood packaging. In most countries the programmes have a voluntary nature. In addition the workshop was informed of the Discussion Board set up to discuss problems of implementing ISPM n°15 "Guidelines for regulating wood packaging in international trade". It was mentioned that this Discussion Board was open to any interested person.
The main concerns raised during the meeting were the following:
Consistency of the Standard with the IPPC and the SPS agreement
Marking of wood packaging
Marking of dunnage
Repairing of pallets
Treatments of wood
Reinfestation of wood and debarking of wood
---
Presentations
B. LARSON (FAO)
Presentation of ISPM 15
G. KROEKER (SE)
Open-ended Working Group on ISPM no. 15
A. BOKUMS (LV)
Implementation of the IPSM no. 15 in Latvia (in Russian)
M.H.C.G. STEEGHS (NL)
Implementation of IPSM no. 15 in the Netherlands
I. ÅKESSON (SE)
The Swedish Wood Packaging Programme – from practice to a legal binding document
K. WILLUMSEN (NO)
Implementation of ISPM no. 15 in Norway
C. PEREZ (ES)
Implementation of ISPM no. 15 in Spain
P. HARASTA (CZ)
National Implementation of ISPM no. 15
T. SCHRÖDER (DE)
First experiences with the implementation of ISPM no. 15 in Germany
V. KUCINSKAS (LT)
Implementation of ISPM no. 15 in Lithuania