EPPO Workshop for Phytosanitary Inspectors
Poznan (PL), 2004-11-17/19
More than 50 participants from 22 countries participated to the EPPO Workshop for phytosanitary inspectors in Poznan. M. Nawrot (Director of the Plant Protection Institute) welcomed the participants to Poznan and presented the Institute which was created in 1951 (as EPPO!) partly as a consequence of the Colorado beetle invasion in Europe.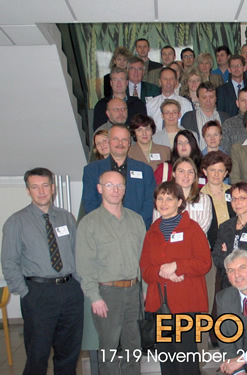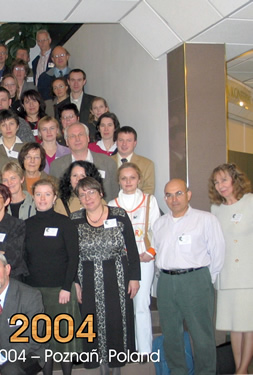 Courtesy: S. Wolny
Nearly 20 presentations were made and focussed on regulations related to potatoes (in particular EU regulations), eradication programmes against potato ring rot and brown rot, surveillance of potato pests and finally certification schemes applied in different EPPO countries.
The aim of the Workshop was also to provide many opportunities for inspectors to discuss potato problems during formal sessions of the meeting and also during excursions. Participants visited the storage facilities of the company Metro and learn about the commercial distribution of ware potatoes in Poland. They also enjoyed a visit to the castle of Kornik (still haunted by a white lady) and a happy dancing dinner at the old city of Poznan. Warm thanks are due to Dr Wolny and his colleagues for the fine organization of this Workshop and their friendly welcome.
Conclusions from the Workshop
Guidance on disinfection procedures is needed (e.g. for agricultural machinery, handling equipment etc.).
Disposal of contaminated potato lots (as well as other commodities) is a problem which could be addressed by EPPO.
The Panel on Phytosanitary Procedures may be asked to prepare more potato crop inspection procedures.
Contingency plans, stating possible phytosanitary measures to be taken in case of an outbreak of a regulated pest, could usefully be developed by EPPO.
---
Presentations
Introduction
F. PETTER (EPPO Secretariat) EPPO standards on potato
A.S. ROY (EPPO Secretariat) Regulated pests of potato for the EPPO region and potential new pest problems
EPPO member countries' regulations for potato pests
C. JEFFRIES (GB) EU Directives, Decisions and other legislation of relevance to potato
A. SAHAJDAK (PL) Polish control system - EU legislation and Accession Treaty
Organization of the potato surveillance and import inspection programmes (including Quarantine Station facilities) in the EPPO region
C. JEFFRIES (GB) The United Kingdom Potato Quarantine Unit
I. WULFERT (DE) Phytosanitary management in seed potato production concerning bacterial quarantine diseases
G. EMMENS (NL) Aspects of potato surveillance programmes in The Netherlands
A. SACCARDI & F. FINELLI (IT) Potato crop inspection procedures in Italy
Eradication programmes for potato pests
N. GILTRAP (GB) Ring rot outbreak in UK
P. MÜLLER (DE) Control measures for ring rot on potatoes in Germany
H. HENDRIKS (NL) Aspects of eradication programmes of brown rot in potato
J. TEGEL (FI) Eradication of potato ring rot in Finland
J. ZARUBA (CZ) Eradication program for ring rot in Czech Republic
J. ŠENEKL (CZ) Eradication program for ring rot in district Jihlava (CZ)

Certification schemes for potato
J.M. HASKINS (GB) Certification schemes for potatoes in England and Wales
C. JEFFRIES (GB) Seed potato classification in Scotland
H. VAN DE HAAR (NL) Seed potato certification in the Netherlands - NAK
J. KNIEŽIENÉ (LT) Seed potato control in Lithuania
Z. SZÉKELY, G. GALAMBOS & B. SZABÓ (HU) Certification scheme for potatoes in Hungary