EPPO Conference on Quality of Diagnosis and
New Diagnostic Methods for Plant Pests
Noordwijkerhout, NL, 2004-04-19/22
EPPO organized a Conference on 'Quality of Diagnosis and New Diagnostic Methods for Plant Pests' in cooperation with the National Plant Protection Organization of the Netherlands.
Read conclusions

This Conference follows in the sequence of EPPO Conferences on new methods of diagnosis in plant protection, previously held at Wageningen, Netherlands, in 1985, 1994 and in 2000. This Conference was attended by more than 100 participants from 26 countries. Most participants were experts in the field of diagnosis of plant pests, but representatives of EU organizations and private companies were also present. The Conference highlighted three major topics :
increasing concerns about the development of quality control systems for laboratories and the need for regional or international standards;
increasing complexity of plant pest identification and detection together with a decreasing number of specialists which underline the need for networks of specialists and well-maintained reference collections of plant pests;
introduction of new technologies (rapid immunoassays, PCR, DNA-chips, digital images) and the need for adequate training.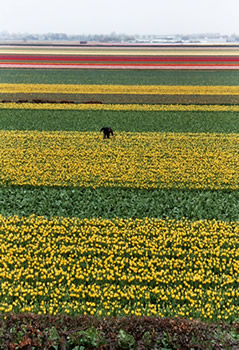 Courtesy S. Hockland
As a result of discussions, a number of conclusions were gathered by Dr Klijn (chairperson at the Conference) and will be presented to the EPPO Working Party on Phytosanitary Regulations and EPPO Council.
---
Presentations
Opening lectures
I. Barker
Quality of diagnosis and new diagnostic methods for plant pests: current status and future prospects

F. Petter
International standards for diagnosis of regulated pests - EPPO diagnostic protocols

V. Zlof
EPPO diagnostic protocols for regulated pests – present situation
P. Crous
Impact of molecular phylogenetics on the taxonomy and diagnosis of fungi

Bacteriology
M. Lopez et al.
Standardization of methods for diagnosis of Erwinia amylovora and Xanthomonas fragariae

E. Moltmann, C. Zimmermann
Detection of Xanthomonas fragariae in symptomless strawberry plants by nested PCR

E. Lojkowska et al.
Application of PCR-RFLP for identification of plant pathogenic bacteria

C. Manceau, S. Grall
Extraction of bacterial DNA from grapevine and detection of Xylophilus ampelinus by PCR-ELISA combined system

F. Poliakoff et al.
Computer-assisted identification and clustering for quarantine bacteria: building of a reference database and making a software

Zoology
A. Reid, J. Pickup
Molecular characterization of a morphologically "unusual" potato cyst nematode

C. Zijlstra, R. van Hoof
Real-time PCR for detection of Meloidogyne chitwoodi and M. fallax

J. van Doorn
Fast identification of Ditylenchus dipsaci causative agent of a quarantine disease in flower bulbs

L. Taluntyte et al.
Dipterous miners in the vicinity of greenhouses and plant market places in Lithuania

H.E. van der Beld et al.
Identification of economically important Liriomyza species by PCR-RFLP analysis

Mycology
J. de Gruyter
40 years Phoma taxonomy at the Plant Protection Service

P. Bonants et al.
Molecular identification and detection of European and American Phytophthora ramorum isolates

P. van den Boogert et al.
New methods for detection of Synchytrium endobioticum in soil

A. Schlenzig
A comparison of baiting method and PCR for the detection of Phytophthora fragariae var. rubi in certified raspberry stocks

M. McNeil et al.
Development and validation of quantitative PCR assays for cereal pathogens

Virology
A.R. Fox et al.
Direct tuber testing for PVY by real-time RT-PCR and ELISA: reliable options for post-harvest testing?

N.C. Cotillon et al.
Production of a polyclonal antiserum against the coat protein (CP) of CYSDV (Cucurbit yellow stunting disorder virus) expressed in E. coli

S. Roussel-Marbot et al.
Development of RT-PCR assays using fluorogenic 3' minor groove binder DNA probes for detection of fruit tree viruses

M. Ravnikar et al.
Combination of different detection methods for reliable CSNV diagnosis

Plenary sessions
E. Pfeilstetter
Diagnosis of harmful organisms in the federal organization of the Plant Protection Service in Germany; recent activities to secure the quality of diagnostic work

C. Thrane, C. Scheel
Organization of quality assurance in diagnostics at the Danish Plant Directorate

J. McDonald, G. Kristjansson
An appropriate quality system for plant pest identification

V. Cockerell
International Seed Testing Association (ISTA). Method Validation Programme

O. Dutrecq et al.
Statistically reliable sampling and diagnosis of plant pathogens using a simplified 'universal' protocol for sample preparation and analysis by (RT-)PCR

L. Kox et al.
Reliability of nucleic acid amplification techniques

N. Boonham
Feasibility of an EU Plant Health Directive (77/93/EEC), diagnostic chip (DiagChip)

C. Schoen
Multiplex detection of plant (quarantine) pathogens by micro-arrays: an innovative tool for plant health management

C. James, C. Jeffries
Development of an EU protocol for the detection and diagnosis of Potato spindle tuber viroid

J.W. Roenhorst
Application of real-time RT-PCR for detection of Potato spindle tuber viroid

G. Vierbergen et al.
Real-time PCR for identification of Thrips palmi

S. Hockland
The role and development of invertebrate collections in the quality of identification

S. Ulenberg
Arthropods of economic importance on CD-Roms and on the Internet

H. Stigter
Distant analysis as a tool for first-line diagnosis

Closing lecture
N. Klijn
Future challenges in the diagnosis of quarantine pests and concluding remarks

Posters
G. Urek, S. Širca
Quality assurance of harmful organisms identification at agricultural Institute of Slovenia
J.M. Expert et al.
Evaluation of two techniques for extraction and conservation of DNA of various quarantine bacteria
A.R. Stöger, W. Ruppitsch
A rapid and sensitive method for the detection of Xanthomonas fragariae in strawberry plants
A. Ciancio et al.
Detection of Meloidogyne incognita and Pochonia chlamydosporia by fluorogenic molecular probes
X. Tassus et al.
Recombinant antibody technology and its application in plant pathogen diagnosis
S. Massart et al.
Real-time PCR for monitoring Candida oleophila strain O, an antagonistic yeast against postharvest diseases on apples
S. Wagner et al.
Actual studies of Phytophthora ramorum
S. Wagner, E. Idczak
Molecular identification of races of Bremia lactucae with ISSR-Primer
A. Bontemps
The French Quarantine Center for Ligneous Plants
R. Miglino et al.
Development of a fast and sensitive real-time PCR, based on a self-probing fluorescent amplicons (Scorpions primer), for the rapid detection of Xanthomonas hyacinthi
J. Hübschen et al.
Development and validation of species-specific primers that provide a molecular diagnostic for virus-vector longidorid nematodes and related species in German viticulture
C.D. Schoen et al.
Multiplex detection using pUMA
A. Rijlaarsdam et al.
Development of specific primers for the molecular detection of Clavibacter michiganensis subsp. michiganensis
A. Rijlaarsdam et al.
Development of specific primers for the molecular detection of Xanthomonas campestris pv. campestris.
J. Tegel, A. Virtanen
A simple equipment to take heel ends from potatoes to ring rot test
Dreo, T. et al.
Xylophilus ampelinus in Slovenia