2nd EPPO Workshop on Pest Risk Analysis
Budapest, 2004-10-05/07
The Second Workshop on PRA was organized in Budapest at the kind invitation of the Hungarian NPPO. It was attended by participants from 17 EPPO member countries and one representative from Canada and New Zealand. Presentations were given on the following topics:
Standards on PRA (International Standards and Regional Standards).
Organization for performing PRA (National and Regional).
Countries' experience with Pest risk assessment:
- Qualitative PRA
- Scoring in PRA
- Quantifying elements of PRA: evaluation of the risk of establishment (GIS, Climex…),
evaluation of the economic impact.
- Environmental risk in PRA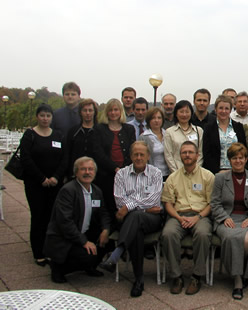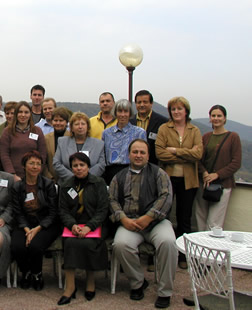 EPPO Standards on PRA have been adopted in 1997 (PM 5/3 Pest risk assessment for Quarantine Pests) and 2000 (PM 5/4 Pest risk management). After the adoption of ISPM 11 on Pest Risk Analysis for Quarantine Pests and its Supplement on Environmental risks, a revision process of the EPPO Standard has been initiated and a revised version of the scheme was presented at the Workshop. This revised version was used during a practical exercice conducted in sub groups on three organisms: Ceroplastes ceriferus, Phytophthora lateralis and Solidago nemoralis.
Main conclusions and recommendations from this Workshop:
The participants were satisfied with the draft revision of the EPPO schemes although the comment was made that certain sections need to be adopted to better cover plants.
The Workshop recommended that the EPPO scheme should be available as a computerized version as soon as possible. A computerized version would avoid repetitions, skip non-relevant questions, include more explanatory text to be consult when needed. Such a programme should also generate automatic final summaries or conclusions of the analysis. Finally, it should be made available on internet.
The Workshop also made detailed suggestions for the scheme which will be considered by the Panel on PRA.
---
Presentations
Pest Risk Analysis standards
A. Klay (CH): International Standards for Phytosanitary Measures on Pest Risk Analysis
F. Petter (EPPO): PRA: EPPO Standards
Organization for performing PRA
C. Sansford (GB): Organisation of PRA at the UK and international level
Z. Dancshazy (HU): Hungarian plans for organising PRA
L. Dumouchel (CA): Plant Health Risk Assessment in Canada
L. Zhu (NZ): Pest risk analysis in New Zealand
F. Petter (EPPO): Regional cooperation in PRA
Countries' experience with Pest risk assessment Qualitative PRA
D. Jones (GB): PRA: the UK format
W. Lammers (NL): The Dutch PRA scheme
Scoring in PRA
T. Rafoss & H. Magnus (NO): Norwegian experiences on scoring in PRA
W. Lammers (NL): Scoring in PRA
Quantifying elements of PRA
R. Baker (GB): Tools for evaluating establishment potential
A. MacLeod (GB): PRA: Evaluating economic impact- resources and tools
Environmental risk in PRA
G. Schrader (DE): PRA for invasive alien plants, challenges and perspectives