27th Meeting of the Panel on ICPM Affairs
Brussels, 2004-04-14/15
The Panel met in Brussels on 2004-04-15/16. The objective of the meeting was to review the draft ISPMs on the agenda of the Standards Committee to give guidance to European members attending this Committee.
The Panel studied the following draft ISPMs:
Guidelines on the concept of equivalence of phytosanitary measures and its application in international trade
Phytosanitary guidelines for transit
Requirements for the establishment, maintenance and verification
Inspection methodology
Amendments to the Glossary of phytosanitary terms
The Panel also studied draft revisions of:
ISPM 1 on principles of plant quarantine as related to international trade
ISPM 2 Guidelines for Pest Risk Analysis
ISPM 3 Code of conduct for the import and release of exotic biological control agents
Regional stewards were designated for these draft standards.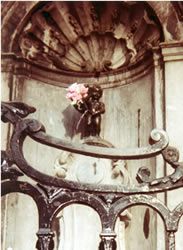 Draft specifications for the technical Panels to develop diagnostic protocols for specific pests and protocols/procedures on phytosanitary treatments were prepared as well as a draft specification for the Guidelines for regulating potato micropropagation material and mini tubers in international trade.