11th Meeting of the Panel on Efficacy Evaluation
of Herbicides and Plant Growth Regulators
Paris, 2004-05-11/12
The 11th Meeting of the Panel on Efficacy Evaluation of Herbicides and Plant Growth Regulators took place at EPPO Headquarters, in Paris, on 2004-05-11/12.
The Panel continued its main task of developing standards for conducting field trials to evaluate the efficacy of herbicides and plant growth regulators. A number of specific standards are in the process of revision: Regulation of growth in ornamental plants (PP 1/157) Regulation of growth in pome fruits (PP 1/158), Weeds in maize (PP 1/50), Weeds in potato (PP 1/51), Weeds in sugar and fodder beet (PP 1/52) and Weeds in sunflower (PP 1/63).
The Panel also discussed revision of the general standards on Effects on succeeding crops (PP 1/207) and Phytotoxicity assessment (PP 1/135). Considerable progress was made in preparing the draft standard on effects on adjacent crops.
The Panel will next meet in Greece (location still to be defined), on 2004-11-25/26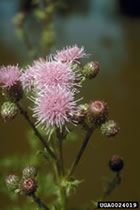 Cirsium arvense
Norman E. Rees, USDA ARS