Joint EPPO / NAPPO meeting
Miami, US, 2004-01-28/30
For four years, the Standards Panel of NAPPO and the Panel on ICPM Affairs of EPPO have held an annual joint meeting. This is the opportunity for the two Organizations to identify common areas of work and to have fruitful exchanges on issues relating to the agenda of the Interim Commission for Phytosanitary Measures. In 2004, this meeting took place in Miami, at the kind invitation of the NPPO of United States. NAPPO presented its respective Panels and Regional Standards. In the presentation of the NAPPO Panels, the following points were noted:
The NAPPO Phytosanitary Alert System is the main vehicle for NAPPO countries to report outbreaks and incursions.
NAPPO countries have now to present an implementation plan for NAPPO standards.
NAPPO has put in place a dispute settlement process similar to the IPPC mechanism.
A concept paper has been developed on the risk associated with the importation of nursery plants for planting.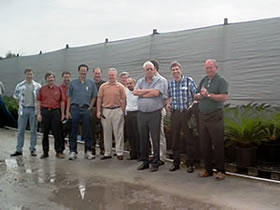 EPPO presented in particular its new activities on the preparation of phytosanitary procedures for the inspection of consignments or places of production. The ISPMs which will be considered by the ICPM on 2004-03/29-04/02 were discussed (Guidelines for phytosanitary import regulatory structures, Pest Risk Analysis for regulated non-quarantine pests, Supplement to ISPM N° 11 on Pest Risk Analysis for Living Modified Organisms). NAPPO and EPPO presented their main comments on these drafts. The implementation of ISPM No. 15 (Guidelines for regulating wood packaging material in international trade) in EPPO and NAPPO countries was discussed.
The group reviewed the ICPM agenda and discussed among others the following points:
Standard-setting procedure (in particular issues related to transparency, the fast track procedure and consultation period).
Role and functions of RPPOs
Role and function of the Informal Working Group on Strategic Planning and Technical Assistance WG
Policy on explanatory documents
Several topics for future collaboration were identified (Potato standard a joint EPPO/NAPPO meeting was already planned, risk associated with nursery plants, possibilities to have joint technical panels e.g. phytosanitary treatments).