9th Meeting of the Panel on Diagnostics
York, GB, 2004-10-27/29
The Panel on Diagnostics met at York in the very impressive building of CSL, and was given to opportunity to visit the different laboratories. The general format of EPPO diagnostic protocols and instructions given to authors were discussed and modified once again. They were also aligned on the format which is being prepared by the IPPC Secretariat for the future development of ISPMs. The revised versions will soon be made available to all Panels and authors involved in the preparation of diagnostic protocols. The main task of this Panel was to review a large number of diagnostic protocols which were at different stages of preparation within the EPPO approval system. Warm thanks are due to Ms Wright and her colleagues for the very fine organization of this meeting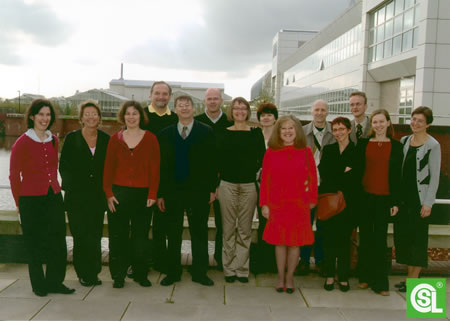 Three diagnostic protocols are now reaching completion and will be presented to the Working Party for approval in 2005: Eotetranychus lewisi, Phytophthora ramorum, Thrips palmi.
The following protocols will be sent to all EPPO member countries for comments: Opogona sacchari, Lepidosaphes ussuriensis, Maconellicoccus hirsutus, Scrobipalpopsis solanivora.
It was agreed that several DIAGPRO protocols could now enter into revision, as in most cases new methods were available. These will be then studied by the various EPPO Panels involved in diagnostics and follow the usual EPPO approval procedure (Beet necrotic yellow vein furovirus, Clavibacter michiganensis subsp. sepedonicus, Globodera spp., Meloidogyne spp., Phoma tracheiphila, Tilletia indica, Xanthomonas fragariae).
Some protocols still needed to be further developed by the Panel, and will be presented again at next year's meeting (Cucumber vein yellowing ipomovirus, Diaporthe vaccinii, Gymnosporangium spp., Toxoptera citricida, Xanthomonas oryzae).
Finally, the Panel reviewed its future programme of work and identified authors who will be asked to prepare new draft protocols on: Ceratitis spp., Diabrotica spp., Eutetranychus orientalis, Helicoverpa armigera & H. zea, Oligonychus perditus, Popillia japonica, Rhagoletis spp., Spodoptera littoralis, Sternochetus mangiferae, Ceratocystis virescens, Giberella circinata, Thecaphora solani.