Anoplophora glabripennis - Eradication programme in Italy (April 2009)
Franck HERARD, Matteo MASPERO, Nathalie RAMUALDE, Costanza JUCKER, Mario COLOMBO, Mariangela CIAMPITTI, Beniamino CAVAGNA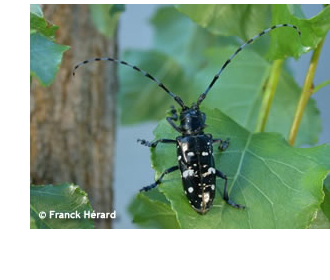 The Asian longhorned beetle Anoplophora glabripennis (Motschulsky) (Coleoptera: Cerambycidae - EPPO A1 List) is a quarantine pest for Europe according to Directive 2000/29/CE. This xylophagous insect is native to the Far-East and abundant in China and Korea. It is widely distributed across China where it is a pest of many deciduous trees (Li & Wu 1993, Luo & Lee 1999). During the last decade, as trade flows increased heavily between China and many western countries, the importation of large amounts of untreated or inappropriately treated wood packing material containing living larval stages of pests, led to multiple accidental introductions of A. glabripennis in North America and in Europe.
In North America and Europe, this quarantine pest is subject to eradication: each infested area is monitored periodically to identify newly attacked trees, which are cut and incinerated without delay. Beginning the first year of detection of the infestations in North America and Europe, great eradication efforts were implemented in each infested site. However, a few A. glabripennis adults and variable numbers of newly infested trees were discovered each year in most sites, even where the initial size of the infestation was limited. This means that eradication is not an easy process; it requires heavy and constant efforts of monitoring and tree cutting and destruction over several years. However, eradication is possible as it seems to have been achieved in Chicago (US).
Elements of Anoplophora glabripennis biology
Anoplophora glabripennis is a very polyphagous cerambycid. In its native area, this xylophagous insect can attack healthy trees primarily in the genera Acer, Populus, Ulmus and Salix. Other attacked host plants belong to the genera Alnus, Malus, Melia, Morus, Platanus, Prunus, Pyrus, Robinia, Rosa, and Sophora. In the USA, A. glabripennis was found in trees in the genera Acer, Aesculus, Albizia, Betula, Fraxinus, Platanus, Populus, Salix, Sorbus, and Ulmus (Haack et al., 1996). In the previously infested sites in Europe, A. glabripennis was found on Acer spp.: A. negundo, A. saccharinum, A. platanoides, A. pseudoplatanus, Platanus sp., Fagus sylvatica "atropunicea", F. sylvatica "asplenifolia", Betula sp., Aesculus hippocastanum, Populus sp., Salix sp., Prunus sp., and Carpinus betulus (Hérard et al., 2006). In its native area, A. glabripennis develops within one or two years (Hua et al., 1992), and overwinters as larvae or pupae. Depending on climate conditions, A. glabripennis adults emerge from mid-May through early October (Li & Wu, 1993). On branches or trunks, females chew with their mandibles funnel-shaped oviposition pits through the bark and inject a single egg per pit beneath the bark.
Depending on the date of egg laying and/or on climate conditions, larval development lasts 10 to 22 months. Early stage larvae bore a gallery in the cambium region, and older stages tunnel through the heartwood. When approaching the pupal stage, the larvae finally bore a pupal chamber under bark. The callow adults stay immobile in the pupal chamber for 7-10 days, the time necessary for their integument to harden, before exiting. The adult exit hole is perfectly round shaped. Emerged adults feed upon the tender bark of twigs and on leaves and petioles (Lingafelter & Hoebeke, 2002; Ric et al., 2007).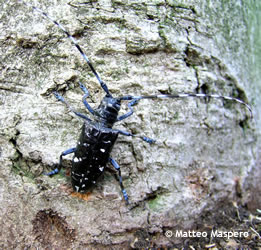 Ovipositing female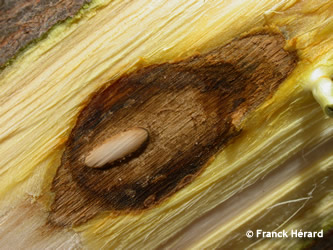 Egg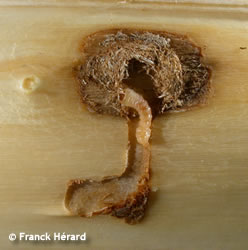 L2 larva gallery within cambium region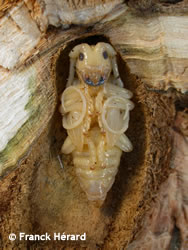 Pupa inside its pupal chamber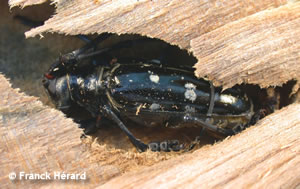 Callow adult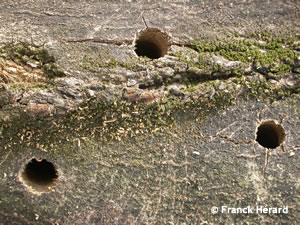 Perfectly circular exit holes of adults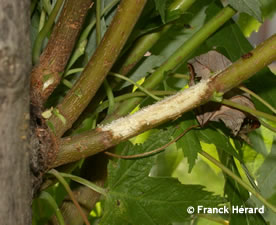 Feeding damage caused by adults
Discovery of the first Anoplophora glabripennis infestation in Italy
In Italy, another species, Anoplophora chinensis (Forster) (Coleoptera: Cerambycidae), was first detected in 2000 in the Milan area (Colombo & Limonta, 2001). It appears that for at least 10 years many ornamental trees in the Milan area have been affected by this alien species imported accidentally from the Far East. Each year since 2001 in that region, many infested trees and living adult beetles have been found in Lombardia. The whole infested area currently covers more than 100 km² and concerns more than 20 municipalities. Major efforts of monitoring and eradication of A. chinensis began in 2004 and are continuing in Lombardia.
On April 9th, 2007 in Italy, a new infestation by Anoplophora sp. was found at Corbetta, west of Milano, within the A. chinensis-infested area. One sycamore maple, A. pseudoplatanus, with a triple trunk, and 3 tightly grouped silver birches, B. pendula, were found heavily infested by an Anoplophora sp., in the back yard of a private company at Corbetta, west of Milan. This company imports valves, cast iron tubing, and other metallic parts in wood packaging material from China.
On June 10th, 2007, an adult beetle was captured at this site. On June 16th, the office of ecology of the municipality was informed of the presence of the pest. On July 19th, the second author, affiliated with Minoprio Foundation and officially in charge at that time for the surveys of the Anoplophora chinensis populations in the Milan area, inspected the infested site and observed that the collected pest was not A. chinensis but A. glabripennis, the Asian longhorned beetle.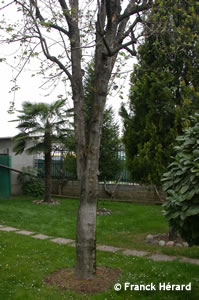 The infested sycamore maple
(Acer pseudoplatanus) at Corbetta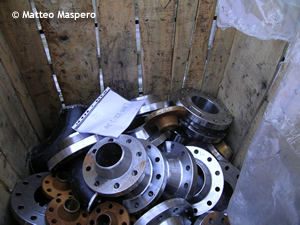 Infested crate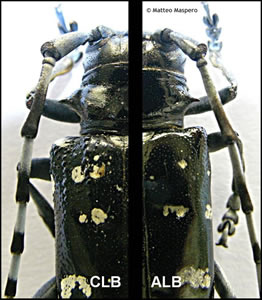 Patterns of the fore portion of the elytrae in
A. chinensis (left) and A. glabripennis (right)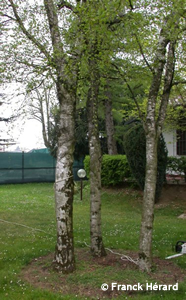 The three infested silver birches
(Betula pendula) at Corbetta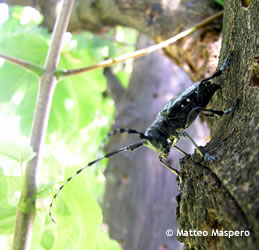 Adult beetle captured at Corbetta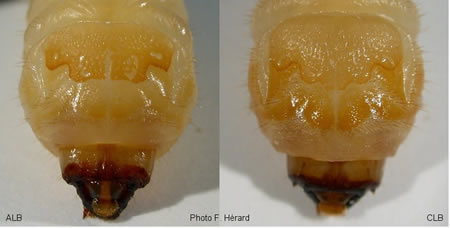 Patterns of the prothoracic plates of the large larvae in
A. glabripennis (left) and A. chinensis (right).
The many signs and symptoms that he observed on this site were typically those of A. glabripennis: funnel-shaped oviposition pits and exit holes in branches and along the trunks, sap oozing from oviposition pits and wasps and flies attracted to it, frass and sawdust on branches, at branch junctions, and on the ground at the base of the infested trees, hollow bark and larval galleries along the trunk and the branches, signs of adult feeding on twigs and on petioles, and branch dieback. Most of the signs and symptoms were located from 1.5 m above ground up to the middle of the crowns.
p>In contrast, damage by A. chinensis is typically located at the base of trunks and on visible roots on the ground. On July 24th, the Institute of Entomology of the University of Milan confirmed the identification (A. glabripennis) of the beetle specimen collected at Corbetta. During summer 2007, 127 A. glabripennis beetles were collected from this site. On August 2nd, 2007 the pest discovery was notified to the Italian NPPO (National Plant Protection Organization) by Regione Lombardia. The A. glabripennis infestation was first reported on August 30th, 2007 by Maspero et al. (2007), and on September 3rd, 2007 it was notified to the European Commission by the Italian NPPO.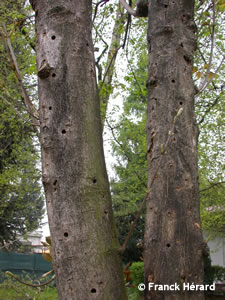 Exit holes and oviposition pits on maple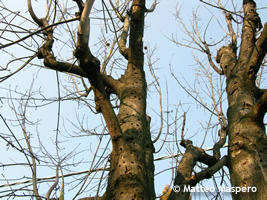 Exit holes and oviposition pits on maple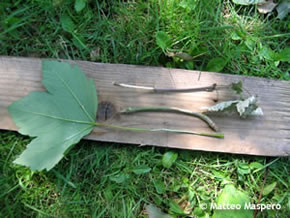 Feeding damage on twigs and petioles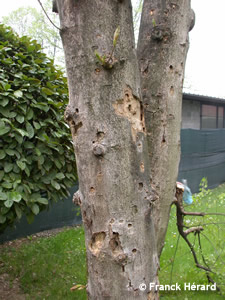 Hollow bark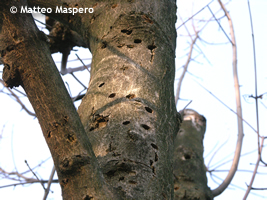 Exit holes and oviposition pits on maple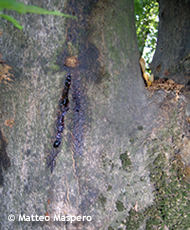 Sap oozing from an oviposition pit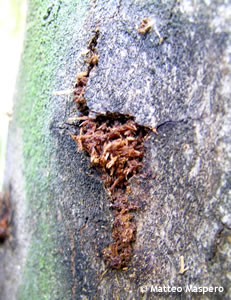 Frass extruded from larval tunnel through craks of the bark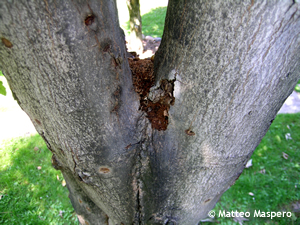 Frass in the fork of branches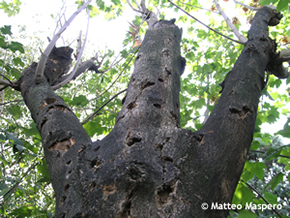 Branch dieback
Eradication programme carried out by the Plant Protection Service of Lombardia
At Corbetta, the four A. glabripennis-infested trees were removed by ERSAF (Regional Institution for Agriculture & Forest Services) under the supervision of the Plant Protection Service of Lombardia. The trunks and branches were cut in 50 cm-long logs that were collected and appropriately transported, under official authorization from the Italian and the French Plant Protection Services, to the quarantine facility of the European Biological Control Laboratory, Montpellier, France for further study (see below).
On December 21st, 2007 "Regione Lombardia" issued a regional phytosanitary decree requesting the eradication of A. glabripennis. The eradication campaign consisted of destroying the infested trees and the uninfested susceptible trees belonging to the genera Acer, Betula, Salix and Populus located in a radius of 500 m around the yard containing the 4 infested trees. Tree species to be removed were selected according to the available scientific literature and on the basis of the information obtained from other European Plant Protection Services, which had to manage the same pest in the past.
The first step was to draw a map covering a radius of 500 m around the initial point of infestation. This area was included within two municipalities: Corbetta and Vittuone. A specific campaign aiming to improve public awareness was implemented to help people understand the necessity of some tree felling.
All trees were located on a map and the respective owners were informed of the tree cutting plan. Special emphasis was placed on the scientific justification for removing unattacked susceptible trees. Emphasis was also placed on the role of Regione Lombardia as a major actor taking care of all the expenses relating to tree cutting, and to replanting of trees that are not susceptible to A. glabripennis.
Within the 500 m radius area submitted to the eradication of A. glabripennis, 309 susceptible trees were cut, 36 trees in the public domain and 273 trees on private property, among which 50 specimens of Acer, 47 specimens of Betula, 132 specimens of Salix, and 80 specimens of Populus. Tree cutting within the 500 m radius area around the infestation was made by technicians of ERSAF during April, 2008. The plant material was initially stored in a secured area then chipped and burned in early May, 2008. No A. glabripennis signs were found in this material.
Replanting of trees that are not susceptible to A. glabripennis was planned from autumn 2008 through spring 2009. In one case, immediate replanting of trees was requested at Corbetta in the park of a restaurant where wedding ceremonies were planned during spring-summer 2008. Ginkgo biloba (maidenhair-tree) and Liquidambar styraciflua (sweetgum) were planted in place of silver birches (Betula pendula) and sycamore maple (A. pseudoplatanus). A project of green area surrounding a supermarket under construction at Vittuone was modified to comply with the new regional phytosanitary regulations.
Furthermore, six sentinel trees (A. pseudoplatanus) were planted in the garden where the A. glabripennis infestation was found. These sentinel trees and the trees located within a 500 m radius area around it, will be periodically and carefully inspected until no sign of A. glabripennis presence is found during 4 consecutive years.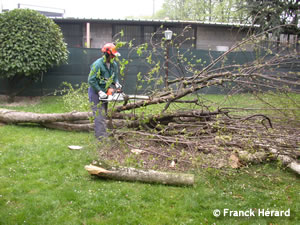 Removal of the infested maple tree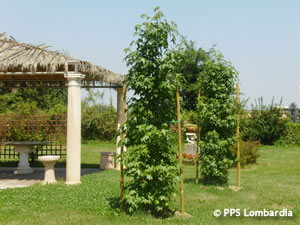 Replanting Liquidambar styraciflua trees at Corbetta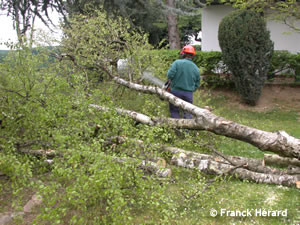 Removal of the infested birch trees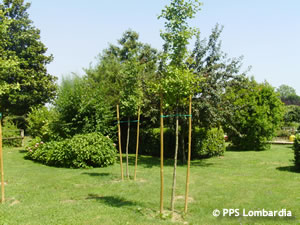 Replanting Gingko biloba trees at Corbetta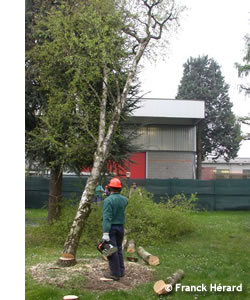 Removal of the infested birch trees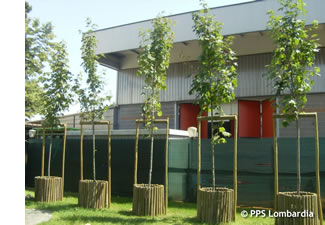 Sentinel trees at Corbetta
Infestation studies
Within quarantine, before being debarked, the logs obtained from the four infested trees were carefully examined to count the oviposition pits. Many holes with irregular outlines and 1 – 3 cm² surface area, through the bark above A. glabripennis larval galleries, were also observed (see black arrows on the picture below). They were signs of predation by insectivorous birds that cut the bark with their beak to feed upon young A. glabripennis larvae. The site of each of these holes was also marked on the logs, and the holes were counted. Then the bark of each log was carefully stripped to count the larval galleries, separate the living larvae, and eventually the diapausing parasitoids of A. glabripennis early stages.
Four categories of galleries were defined:
- 1. no gallery despite of the presence of an oviposition pit,
- 2. gallery empty, aborted during the initial phase of larval development because of bird predation,
- 3. developed gallery containing a young A. glabripennis larva,
- 4. developed gallery containing a large A. glabripennis larva.
Once all data collectable by examination of the bark and the subjacent layer were noted, the log was split carefully with a 4-ton electrical hydraulic log splitter to reach and open all the galleries bored deeper in the wood.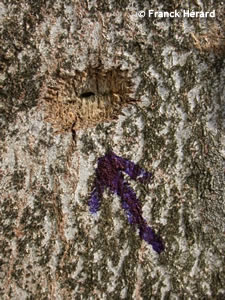 Oviposition pits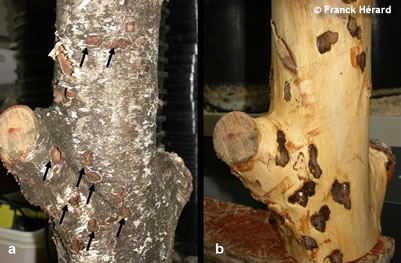 Signs of bird
predation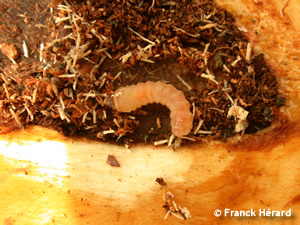 Young larva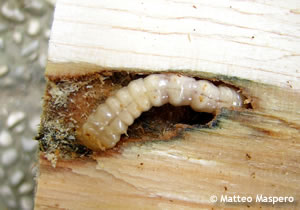 Medium size larva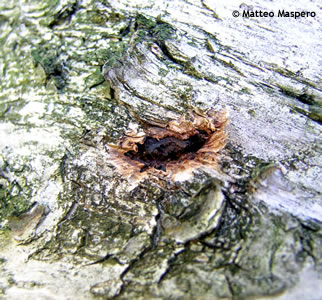 Oviposition pits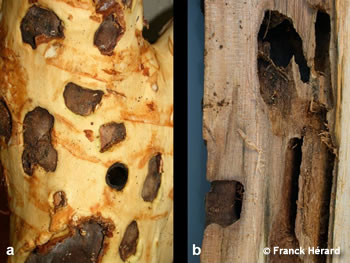 Empty larval galleries aborted because of bird predation (a)
Split log to view all galleries inside the wood (b)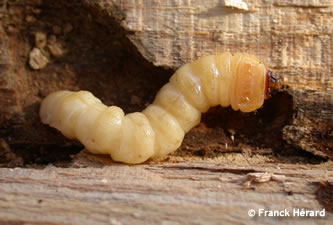 Full grown larva
Medium size larva
Observations showed that both Acer pseudoplatanus and Betula pendula are suitable host plants, and can therefore be considered at high risk in case of A. glagripennis infestations. Observations made at Corbetta suggested that the infestation was not new, and that a rather high proportion of adults has emerged before the initial discovery and may have escaped. On cut logs, 158 living larvae of various ages were still developing in April 2008. On these infested logs, many signs of predation by birds were visible and it is considered that bird predation on young larvae developing under the bark, probably played a major role in limiting the pest population. Intensive surveys and eradication measures against A. glabripennis are continuing in Italy.
Acknowledgements
The authors are very grateful to Dr. Walker A. Jones (EBCL Director) for his review of the text, to Dr. Carlo Pesarini of Natural History Museum of Milan for his help in confirming the identification of specimens of A. glabripennis, to the Local Police department of Corbetta for its help during the survey program in and around the infested private property, to the owner of the company who facilitated our work (survey and data collection) in his property, and to Anne-Sophie Roy (EPPO) who composed this web page. This work was partially supported by a collaborative project funded by Regione Lombardia, through Fondazione Minoprio, Como, Italy, and by the European Biological Control Laboratory, USDA, ARS, Montpellier, France.
References
Colombo M, Limonta L (2001) Anoplophora malasiaca Thomson (Coleoptera Cerambycidae Lamiinae Lamiini) in Europe. Bollettino di Zoologia agraria e di Bachicoltura, Serie II, 33(1), 65-68.
Haack RA, Cavey JF, Hoebeke ER, Law KL (1996) Anoplophora glabripennis: a new tree-infesting exotic cerambycid invades New York. Newsletter of the Michigan Entomological Society 41, 1-3.
Hérard F, Ciampitti M, Maspero M, Krehan H, Benker U, Boegel C, Schrage R, Bouhot-Delduc L, Bialooki P ( 2006) Anoplophora spp. in Europe: Infestations and management process. Bulletin OEPP/EPPO Bulletin 36(3), 470-474.
Hua L, Li S., Zhang X (1992) Coleoptera: Cerambycidae. pp. 467 - 524.- In: Peng J. and Liu Y. Iconography of forest insects in Hunan China. Hunan Science and Technology Press, Changsha.
Lingafelter S W, Hoebeke ER (2002) Revision of Anoplophora. Entomological Society of Washington, Washington, D. C.: 236 pp.
LI W, Wu C (1993) Integrated management of longhorn beetles damaging poplar trees. Beijing: China Forestry Press, 290 pp.
Luo Y, Li J (1999) Strategy on applied technology and basic studies on poplar longhorned beetle management. Journal of Beijing Forestry University 21, 6-21.
Maspero M, Jucker C, Colombo M (2007) First record of Anoplophora glabripennis (Motschulsky) (Coleoptera Cerambycidae Lamiinae Lamiini) in Italy. Bollettino di Zoologia agraria e di Bachicoltura, Serie II, 39(2), 161-164.
Ric J, de Grot P, Gasman B, Orr M, Doyle J, Smith MT, Dumouchel L, Scarr T (2007) Detecting signs and symptoms of Asian longhorned beetle injury: training guide. Natural Resources Canada Canadian Forest Service, Sault Ste. Marie, Ontario: 118 pp.
Prepared for EPPO by:

F. HERARD and N. RAMUALDE - European Biological Control Laboratory, Campus International de Baillarguet, CS90013 Montferrier-sur-Lez, 34980 Saint-Gély-du-Fesc cedex, France,

M. MASPERO - Fondazione Minoprio, Viale Raimondi 54, I-22070 Vertemate con Minoprio (Como), Italy.

C. JUCKER and M. COLOMBO - Dipartimento di Protezione dei Sistemi Agroalimentari e Urbano e Valorizzazione della Biodiversità, DiPSA, Università degli Studi di Milano, Via Celoria 2, I-20133 Milano, Italy.

M. CIAMPITTI - Ente Regionale per i Servizi all'Agricoltura e alle Foreste, ERSAF, via Copernico 38, 20124 Milano, Italy.

B. CAVAGNA - Servizio Fitosanitario Regionale, via Pola 12/14, 20124 Milano, Italy.

All pictures were kindly provided by Franck Hérard, Matteo Maspero, the Plant Protection Service of Lombardia, and can also be viewed (higher resolution) on the EPPO Global Database