First record of Aleurocanthus spiniferus (Homoptera: Aleyrodidae) in Apulia, Southern Italy
Francesco Porcelli (DiBCA sez Entomologia e Zoologia, Università di Bari, Italy) – 2009
In April 2008, Dr Fedele together with Dr Parisi (CODILE Lecce) and Miss S. Nutricato, a University student in Agriculture submitted to my attention a small branch of orange infested by Aleurocanthus spiniferus Quaintance 1903 (Homoptera: Aleyrodidae). So far, the orange spiny whitefly had never been reported in Italy or in Europe.
Because of the importance of this pest for citrus orchards, an immediate inspection on the infested site was made in order to obtain more information on the pest status. The inspection showed that the pest was already widespread in the area of Supersano (40° 1'1.58"N 18°14'26.02"E) in the Province of Lecce (Apulia region). Interviews with local citrus growers revealed that the pest was noted two years ago but misidentified as a scale insect. The origin of the infestation is still unknown and to our opinion the pest has spread enough to make its eradication impossible.

A. spiniferus is included in the "EPPO A1 List of pests recommended for regulation as quarantine pests" and in the EU Annex II/A1: "Pests known not to occur in the EU, whose introduction into, and/or whose spread within, all EU Member States is prohibited, with reference to specific plants or plant products". As a consequence A. spiniferus is here reported as introduced, acclimatized and spreading in the EPPO region.
An authoritative identification was requested for this species, so we wish to thank Dr J. Martin - NHM London - who confirmed the species identification and Mr M. Jansen - Plant Protection Service, Wageningen, the Netherlands - for his critical review of the draft.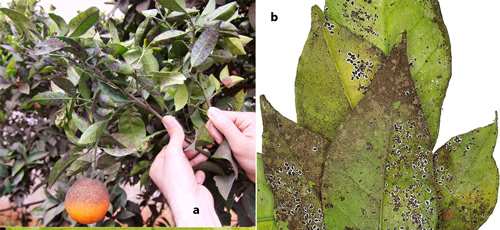 Figure 1 - Aleurocanthus spiniferus: a) Citrus aurantium plants infested by Aleurocanthus spiniferus (Quaintance 1903); b) underside leaves with plenty of A. spiniferus puparia; c) one adult male and a mating pair of A. spiniferus with laid eggs on the underside of a mandarin leaf; d) puparia of A. spiniferus; e) marginal teeth of the puparium using light microscope with bright field.
---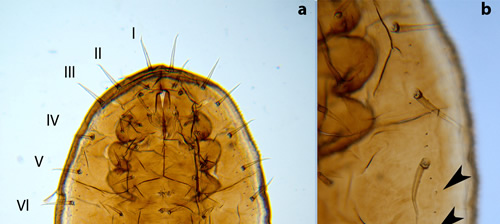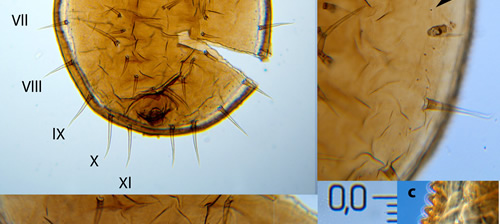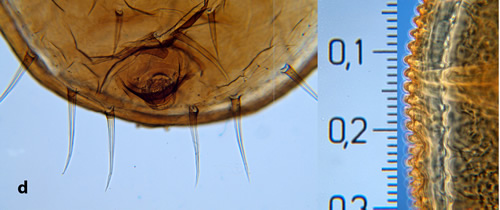 Figure 2 - Aleurocanthus spiniferus: a) general aspect of the mounted puparium; b) submarginal dorsal glands; c) marginal teeth using light microscope with phase contrast; d) posterior end of the puparium.