EPPO Alert List

– Phlyctinus callosus (Coleoptera: Curculionidae)
Banded fruit weevil
Why
Phlyctinus callosus (Coleoptera: Curculionidae), the banded fruit weevil, is reported to cause economic damage in grapevine and fruit trees. During the EU-funded project DROPSA (Strategies to develop effective, innovative and practical approaches to protect major European fruit crops from pests and pathogens), P. callosus was identified as a pest of fruit which may present a risk for the EPPO region. The Panel on Phytosanitary Measures recommended to add it to the Alert List.
The taxonomy of P. callosus is under revision. Haran et al. (2020) stated that P. callosus is a species complex including 5 newly described species in addition to P. callosus sensu stricto. Two species, P. callosus s.s. and P. xerophilus, are important pests in grapevines and orchards in South Africa. Only P. callosus s.s. is reported as established in other countries but P. xerophilus has also spread out of its native range in South Africa. Haran et al. (2020) provided a description and an identification key for the 6 species.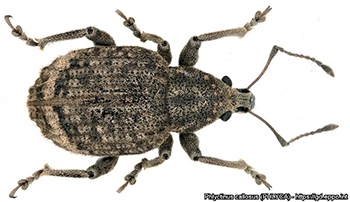 Female of P. callosus - Courtesy: J. Haran (CIRAD, Montpellier, FR)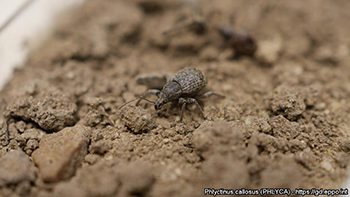 Adult P. callosus on soil - Courtesy: J. Haran (CIRAD, Montpellier, FR)
Where
P. callosus is native to South Africa and was introduced in several countries in Oceania in the 19th century, and more recently in Reunion island.
EPPO region: Absent.
Africa: Reunion, Saint Helena, South Africa (native).
Oceania: Australia (New South Wales, South Australia, Tasmania, Victoria, Western Australia), New Zealand, Norfolk Island.
On which plants
P. callosus is a polyphagous species, feeding on a wide range of monocotyledonous and dicotyledonous species. Adults spend the day in the leaf litter on the ground in the vicinity of the host plant and climb onto its aerial parts during the night to feed and mate. It is considered as an important pest of grapevine (Vitis vinifera) and fruit trees (Malus domestica and Prunus spp.) in South Africa, Australia and New-Zealand. It also damages a number of ornamental plants.
Damage
Larvae are present in the soil and feed on roots. Adults feed on stems, leaves and fruit. P. callosus cause damage to fruit on apple, nectarine, pear, plum and peach. On grapevine, damage is mostly to leaves and stems (incl. those of bunches or berries). Lesions on fruit make it unmarketable and infestations cause rejection of fruit for exports. Young fruit trees can be defoliated entirely at high adult population densities. Larvae cause damage to roots, which may be important on root vegetables or young vines and trees.
Control is carried out via insecticide sprays against adults, and the use of trunk barriers to prevent the beetle from reaching the fruit. Biocontrol with entomopathogenic nematodes and fungi has also been developed. Post-harvest treatments are applied in South Africa to guarantee pest freedom of exported fruits.
Adults are flightless weevils (body length: 4.8-6.1 mm), greyish-brown, with a bulbous abdomen which has the characteristic pale-white V-stripe that is prominent at the posterior margin. Eggs are laid on or near the soil surface, or on loose debris and organic litter in late summer or early autumn. After hatching, first instar larvae burrow into the soil, where they feed on the roots of host plants. The larvae have an orange head. P. callosus has one or two generations per year.
Dissemination
Adults are flightless. They are known to be associated with fruit in trade. As eggs are laid on soil or plant debris, and larvae live in soil, they could be associated with host plants for planting with soil attached and possibly root vegetables. P. callosus is regularly intercepted on fruit in the USA, and was recently intercepted in a consignment of apples from South Africa to Ireland.
Pathways
Fruit, plants for planting with soil, soil. Cut flowers? Root vegetables?
Possible risks
P. callosus is a known pest of grapevine and fruit trees which are economically important crops in the EPPO region. The beetle currently occurs in regions with Mediterranean or warm temperate climates, which suggests that P. callosus would be well adapted at least to the Mediterranean part of the EPPO region.
Sources
Anonymous (2020) Garden weevil in vineyards. Government of Western Australia. Online https://www.agric.wa.gov.au/pome-fruit/garden-weevil-vineyards (accessed in July 2020).
Bourke (2020) Rapid Pest Risk Analysis (PRA) for Phlyctinus callosus. Ireland Department of Agriculture Food and the Marine. 53 pp
Bredenhand E, Hoorn A, van May F, Ferreira T, Johnson S (2010) Evaluation of techniques for monitoring banded fruit weevil, Phlyctinus callosus (Schoenherr) (Coleoptera: Curculionidae), infestation in blueberry orchards. African Entomology 18(1), 205‐209. https://doi.org/10.4001/003.018.0118
Haran JM, Hansen S, Benoit l, Addison P (2020) Description of five new species in the genus Phlyctinus Schoenherr (Coleoptera, Curculionidae): a first step in deciphering the P. callosus complex. European Journal of Taxonomy 669, 1-29. https://doi.org/10.5852/ejt.2020.669
Pryke JS, Samways MJ (2007) Current control of phytosanitary insect pests in table grape vineyards of the Hex River Valley, South Africa. African Entomology 15(1), 25–36. https://doi.org/10.4001/1021-3589-15.1.25
Smit R (2019) Postharvest phytosanitary disinfestation strategies using thermal and atmospheric stress: commodity and insect tolerances. PhD thesis. https://scholar.sun.ac.za/handle/10019.1/107254
Suffert M, Wilstermann A, Petter F, Schrader G, Grousset F (2018) Identification of new pests likely to be introduced into Europe with the fruit trade. EPPO Bulletin 48(1), 144-154.
EPPO RS 2020/165