EPPO Alert List

– Elasmopalpus lignosellus (Lepidoptera: Pyralidae)
Lesser cornstalk borer
Why
Elasmopalpus lignosellus (Lepidoptera: Pyralidae – lesser cornstalk borer) is a polyphagous pest, native from the Americas, which has been recently intercepted by Ireland and the United Kingdom on imports of asparagus from Peru (EPPO RS 2019/225). Considering that a pathway of entry into the EPPO region exists and that E. lignosellus is a pest of several crops of economic importance, the NPPO of the United Kingdom suggested that E. lignosellus should be added to the EPPO Alert List.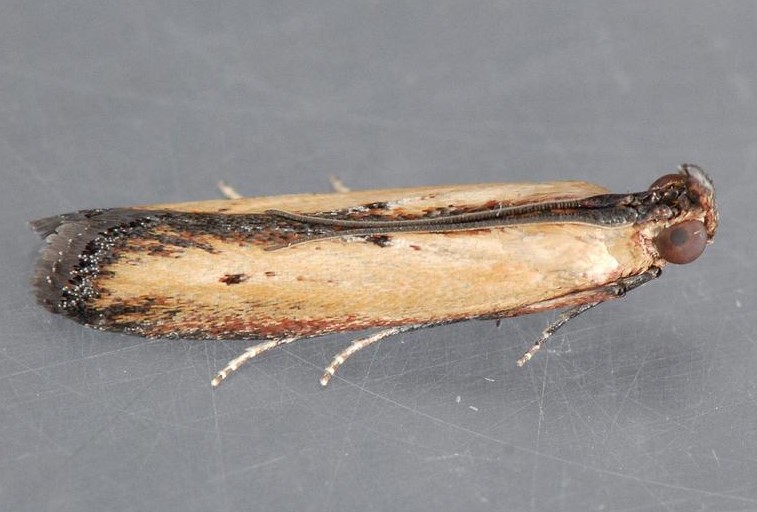 Adult female
Mark Dreiling, Bugwood.org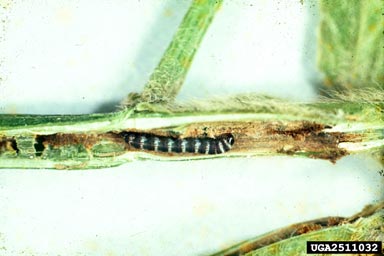 Larva inside a maize stalk
David Riley, University of Georgia, Bugwood.org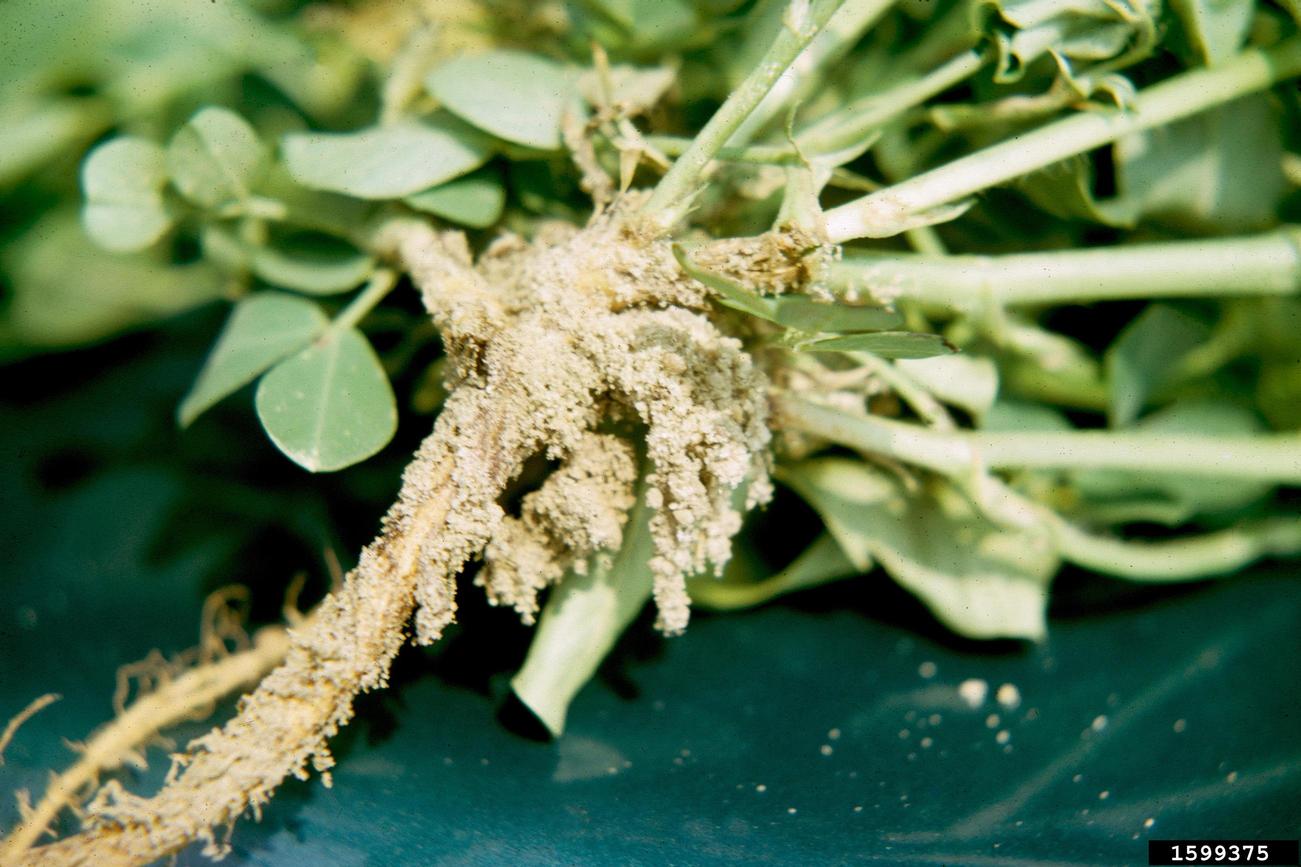 Damage – John C. French Sr., Retired, Universities:
Auburn, GA, Clemson and U of MO, Bugwood.org
Where
E. lignosellus occurs in the Americas only. In the literature, there is a single record in Asia (Vietnam), but as this old record has not been confirmed by any other sources, it has been considered doubtful and not included in the list below.
EPPO region: Absent.
North America: Mexico, USA (Alabama, Arizona, Arkansas, California, Connecticut, Delaware, District of Columbia, Florida, Georgia, Hawaii, Illinois, Iowa, Kansas, Louisiana, Maryland, Massachusetts, Mississippi, Missouri, New Jersey, New Mexico, North Carolina, Ohio, Oklahoma, South Carolina, Tennessee, Texas, Virginia).
Central America and the Caribbean: Barbados, Bermuda, Costa Rica, Cuba, El Salvador, Guatemala, Jamaica, Nicaragua, Panama, Trinidad and Tobago, Puerto Rico.
South America: Argentina, Bolivia, Brazil (Bahia, Goias, Mato Grosso, Mato Grosso do Sul, Minas Gerais, Parana, Pernambuco, Rio Grande do Sul, Sao Paulo), Chile, Colombia, French Guiana, Paraguay, Peru, Uruguay, Venezuela.
On which plants
E. lignosellus is a polyphagous insect which can attack several economically important crops, such as cereals, grasses (Poaceae) and legumes (Fabaceae). E. lignosellus has been recorded as a pest of Arachis hypogaea (peanut), Glycine max (soybean), Phaseolus vulgaris (beans), Saccharum officinarum (sugarcane), Sorghum bicolor (sorghum), Triticum aestivum (wheat), and Zea mays (maize). In the 1980s, E. lignosellus was also reported to cause damage and extensive mortality in nurseries on forest tree seedlings in Florida, USA (e.g. on Cornus florida, Cupressus arizonica, Juniperus silicicola, Pinus spp., Platanus occidentalis, Robinia pseudoacacia, Taxodium distichum). In recent Internet sources, it is mentioned as an emerging pest on asparagus (Asparagus officinalis) crops in Peru.
According to the literature, E. lignosellus has also been recorded on other cultivated plants, such as Avena sativa (oat), Beta vulgaris (sugarbeet), Brassica rapa (turnip), Capsicum spp., Cucumis melo (melon), Cyperus esculentus, Gossypium spp. (cotton), Hordeum vulgare (barley), Ipomoea batatas (sweet potato), Linum usitatissimum (flax), Solanum lycopersicum (tomato), Oryza sativa (rice), Phaseolus spp. (beans), Pisum sativum (field peas), Secale cereale (rye), Vigna spp. (cowpeas).
E. lignosellus can also feed on many weed species such as: Aristida stricta, Avena fatua, Cynodon dactylon, Cyperus rotundus, Digitaria sanguinalis, Eleusine indica, Hydrochloa carolinensis, Sorghum halepense.
Damage
E. lignosellus is a semi-subterranean pest and damage is caused by its larvae which feed and tunnel inside the stems (or stalks) of their host plants. Usually, larvae bore stems at their basal part or just below the soil surface. They bore upward within the plant, and as they feed, frass partially fills the gallery. Wilting is one of the first signs of attack which may be followed by stunting, deformation, and plant mortality (especially on plantlets). On some crops (e.g. groundnut, beans), E. lignosellus can also feed on pods. On sugarcane, when the apical meristem of the shoot is killed or when the youngest leaf is severed, 'dead heart' symptoms are observed. Finally, plants attacked by E. lignosellus are more susceptible to secondary fungal or bacterial infections.
E. lignosellus has several overlapping generations per year. In the USA, the pest has 3 to 4 generations and is active from June to November. It is thought to overwinter as larvae or pupae. E. lignosellus seem to be adapted to sandy soils, as well as hot and dry climatic conditions. Eggs (0.6 mm long, 0.4 mm width) are deposited mostly in the soil surrounding plants (at a depth of up to 2 mm), or on lower leaves/stems. A single female can lay approximately 200 eggs. Upon hatching, larvae construct small tube-shaped shelters made of silk, soil and frass at the root collar. Larvae spend most of their time in these tubes in the soil, moving into the host to feed and constructing new tubes as they mature. The presence of these tubes in the soil at the base of the stems also indicates the presence of E. lignosellus. The number of larval instars vary from 5 to 9 depending on environmental conditions. When larval development has been completed, larvae pupate within a cocoon at the end of the tubes or in the soil. Adults are relatively small moths (17-22 mm wingspan), with a pronounced sexual dimorphism. Pictures of the pest can be viewed on the Internet.
https://www.forestryimages.org/browse/subthumb.cfm?sub=373
https://pt.slideshare.net/virusdechat/elasmopalpus-lignosellus-en-esprrago/5
Dissemination
Adult moths can fly, but there is no data on flight distances. Over long distances, trade of infested plants or parts of plants, is probably the main pathway.
Pathways
Plants for plantings, fruit and vegetables (stems and pods), cut flowers and branches (stems) of host plants, soil? from countries where E. lignosellus occurs.
Possible risks
E. lignosellus is a polyphagous pest of numerous plants that are of economic importance in the EPPO region. In its area of origin, economic damage has been reported (e.g. on cereals and maize, sugarcane, and legumes). Due to the semi-subterranean and hidden mode of life of larvae, management is reported to be difficult and relies on several methods, including cultural, chemical and biological control methods. The fact that E. lignosellus has recently been intercepted on imported asparagus from South America demonstrates that it has the potential to enter the EPPO region. However, its potential of establishment would need to be further studied. Considering the very wide host range of E. lignosellus and the potential damage it can cause to many crops of economic importance, it seems wise to avoid the introduction of this pest into the EPPO region.
Sources
Busoli AC, Lara FM, Nunes D Jr, Guidi M (1977) Preference of Elasmopalpus lignosellus (Zeller, 1848) (Lepidoptera, Phycitidae) for different crops. Anais da Sociedade Entomologica do Brasil 6(1), 73-79.
CABI Crop Protection Compendium. Elasmopalpus lignosellus (lesser corn stalk borer). https://www.cabi.org/cpc/datasheet/20663 [last accessed 2019-11].
CABI (1960) Distribution Maps of Plant Pests no. 114. Elasmopalpus lignosellus, CABI Wallingford (GB).
Dixon WN (1982) Lesser cornstalk borer, Elasmopalpus lignosellus (Zeller) (Lepidoptera: Pyralidae). Entomology Circular, Division of Plant Industry, Florida Department of Agriculture and Consumer Services no 236, 2 pp.
Ferreira E, Barrigossi JAF (2003) A field technique for infesting rice with Elasmopalpus lignosellus (Zeller) (Lepidoptera: Pyralidae) and evaluating insecticide treatments. Neotropical Entomology 32(2), 367-371.
Gill HK, Capinera JL, McSorley R (2017) Featured Creatures. Lesser cornstalk borer. Elasmopalpus lignosellus (Zeller) (Insecta: lepidoptera: Pyralidae). University of Florida (US). http://entnemdept.ufl.edu/creatures/field/lesser_cornstalk_borer.htm
Isas M, Pérez ML del, Salvatore A, Gastaminza G, Willink E, White W (2016) Impacts of crop residue on damage by sugarcane pests during the tillering phase in Argentina. Florida Entomologist 99(1), 1-5.
Neunzig HH (1979) Systematics of immature Phycitines (Lepidoptera: Pyralidae) associated with leguminous plants in the Southern United States. USDA Technical Bulletin no. 1589, 126 pp.
Sandhu HS (2010) Biology and cultural control of lesser cornstalk borer on sugarcane. PhD thesis. University of Florida. https://ufdcimages.uflib.ufl.edu/UF/E0/04/14/72/00001/sandhu_h.pdf
Sandhu HS, Nuessly GS, Cherry RH, Gilbert RA, Webb SE (2011) Effects of Elasmopalpus lignosellus (Lepidoptera: Pyralidae) damage on sugarcane yield. Journal of Economic Entomology 104(2), 474-483.
Sandhu HS, Nuessly GS, Webb SE, Cherry RH, Gilbert RA (2013) Temperature-dependent reproductive and life table parameters of Elasmopalpus lignosellus (Lepidoptera: Pyralidae) on sugarcane. Florida Entomologist 96(2), 380-389.
Xavier LMS, Laumann RA, Borges M, Magalhães DM, Vilela EF, Blassioli-Moraes MC (2011) Trichogramma pretiosum attraction due to the Elasmopalpus lignosellus damage in maize. Pesquisa Agropecuária Brasileira 46(6), 578-585.
Zorzetti J, Ricietto APS, Fazion FAP, Meneguim AM, Neves PMOJ, Vilas-Bôas G (2017) Isolation and characterization of Bacillus thuringiensis strains active against Elasmopalpus lignosellus (Zeller, 1848) (Lepidoptera, Pyralidae). Acta Scientiarum - Agronomy 39(4), 417-425.
EPPO RS 2019/237
Entry date: 2019-11