EPPO Alert List

– Anoplophora horsfieldii (Coleoptera: Cerambycidae)
Why
Anoplophora horsfieldii (Coleoptera: Cerambycidae - chinaberry yellow-banded longhorn beetle) originates from South-East Asia. Its establishment on the island of Jeju (Republic of Korea) has recently been reported, thus indicating that this insect has the potential to expand its distribution range. On Jeju Island, the first specimens of A. horsfieldii were photographed in September 2019 in urban environments by members of the public. In July 2022, scientists observed adult beetles and exit holes in Celtis sinensis (Cannabaceae) trees. They confirmed the establishment of A. horsfieldii and estimated that the insect had been introduced around 2015. For the moment, the pest is restricted to a small area located between the island's largest port and airport. Because of its possible similarities with other damaging and invasive Anoplophora species (i.e. Anoplophora chinensis and A. glabripennis), the EPPO Secretariat considered that A. horsfieldii could usefully be added to the EPPO Alert List.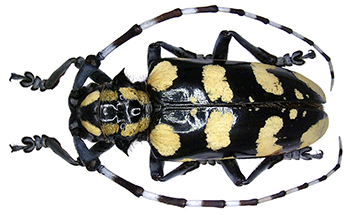 Anoplophora horsfieldii – Wikimedia Commons (photo by Udo Schmidt, DE)
Where
Its known distribution is restricted to South-East Asia, and it has been proposed that A. horsfieldii could be separated into three subspecies occupying different geographical areas: A. horsfieldii horsfieldii (China), A. horsfieldii tonkinensis (Indochina) and A. horsfieldii taiwanensis (Taiwan). As explained above, A. horsfieldii has recently been introduced on Jeju Island in the Republic of Korea (absent from the mainland). An old record of the species in Assam (India) is considered doubtful.
EPPO region: Absent.
Asia: China (Anhui, Chongqing, Fujian, Gansu, Guangdong, Guangxi, Guizhou, Hainan, Henan, Hubei, Hunan, Jiangsu, Jiangxi, Shaanxi, Shanghai, Sichuan, Yunnan, Zhejiang), Korea (Republic of), Laos, Taiwan, Thailand, Vietnam.
On which plants: According to the literature, the known host range includes the following tree species: Azadirachta indica (chinaberry), Camellia oleifera (oil-seed camellia), Camellia sinensis (tea), Celtis sinensis (Chinese hackberry), Citrus sp., Quercus glauca, Ulmus pumila.
Damage
The main damage is caused by larvae which bore into the wood of living trees. External signs of infestation include circular exit holes (> 15 mm diameter), sawdust-like frass ejected from larval galleries, sap oozing from oviposition pits, adult maturation feeding on branches and shoots. On Jeju Island, it has been observed that attacked Celtis sinensis trees were totally or partially withered, but that external signs of infestation were far less evident than those of A. glabripennis or A. chinensis.
Adults of A. horsfieldii are large beetles (23-43 mm long), black or dark brown and shiny, with large yellow velvety patches distributed over the whole body. The antennae exceed three-quarters of the body length in males and are slightly longer than body length in females. As it is a large and beautiful insect, dead specimens can easily be found for sale online.
More pictures can be found on the Internet.
http://bezbycids.com/byciddb/wdetails.asp?id=32237&w=o
http://insectforum.no-ip.org/gods/cgi-bin/view.cgi?forum=2&topic=13053
http://museum.ioz.ac.cn/topic_detail.aspx?id=14478
Dissemination
Adults can fly, but no information on their flying abilities could be found. In international trade, A. horsfieldii is likely to be moved on plants for planting and wood products of its host plant species. No records of interceptions made in the EPPO region could be found.
Pathways
Plants for planting, wood of host plants from countries where A. horsfieldii occurs.
Possible risks
Information on many aspects of the biology, and in particular on the damage caused by A. horsfieldii in its native range, is generally missing in the available literature. However, past experience with the introduction of similar species in the EPPO region (i.e. A. chinensis and A. glabripennis) advises for caution.
Sources
An YL, Wang BD, Yang XJ, Lin XJ, Chen JD, Huang XM, Mastro VC (2004) Characterizing populations of Anoplophora glabripennis and related taxa with RAPD. Acta Entomologica Sinica 47(2), 229-235.
Barševskis A, Cabras AA, Medina MN, Odango J, Susulan T, Rifqi DM, Hanifuddin AS, Kurnitami GT, Barševska Z, Lecka K (2022) New data on the distribution of the genus Anoplophora Hope, 1839 (Coleoptera: Cerambycidae). Baltic Journal of Coleopterology 22(1), 149–173.
Base de données Titan sur les Cerambycidés ou Longicornes. Anoplophora horsfieldii (Hope, 1842). http://titan.gbif.fr/sel_genann1.php?numero=16851
Danilevsky ML (ed.) (2020) Catalogue of Palaearctic Coleoptera. 6 (1), Chrysomeloidea I (Vesperidae, Disteniidae, Cerambycidae). http://www.cerambycidae.net/catalog.pdf and notes (2018-06-08). http://www.cerambycidae.net/news/06.08.2018/06.08.2018_palaearctic_catalogue.pdf
Lee S, Choi J, Jang H, Choi W, Kwon W, Kim D, Gim J, Park J, Park S, Kim S, Shin S, Lee S (2023) Establishment of non-native Anoplophora horsfieldii (Coleoptera: Cerambycidae) in South Korea, Journal of Integrated Pest Management 14(1) 9. https://doi.org/10.1093/jipm/pmad008
Li L, Wang R, Waterhouse DF (1997) The distribution and importance of arthropod pests and weeds of agriculture and forestry plantations in southern China. Australian Centre for International Agricultural Research (ACIAR), 185 pp.
National Animal Collection Resource Center, China. Anoplophora horsfieldii (Hope, 1842). http://museum.ioz.ac.cn/topic_detail.aspx?id=14478
Ohbayashi N (2018) [A new subspecies of Anoplophora horsfieldii (Hope, 1842) (Coleoptera: Cerambycidae: Lamiinae)]. Japanese Journal of Systematic Entomology 24(1), 39-42 (abstract).
Thomson J (1868) Physis. Recueil d'Histoire Naturelle, Paris 2(6), 146-200. http://www.biodiversitylibrary.org/item/35775
Zhang BL, Zhang J, Zhang D, Feng Y, Qiu J, Ye XJ, Wang BX (2023) Complete mitochondrial genome of the longicorn Anoplophora horsfieldi Hope (Coleoptera: Cerambycidae). Mitochondrial DNA Part B 8(2), 220-221. https://doi.org/10.1080/23802359.2021.1915717
EPPO RS 2023/228