Welcome Montenegro !
We have just received final confirmation of the membership of Montenegro. We are delighted to welcome Montenegro into EPPO and look forward to working with them and with experts in their National Plant Protection Organization. This brings the number of EPPO countries to 52, and fills the last remaining gap in the map of our members in Europe.
On receiving the news Martin Ward (Director-General of EPPO) said "We have been in discussion with Montenegro for some time and it is great news that they have completed the process of joining EPPO. We look forward to working closely with them on plant health risks to the region."
Ms Zorka Prljevic (Head of the NPPO of Montenegro) said "We are pleased to be able to participate in the activities of EPPO and look forward to the benefits of membership, including the chance for our plant health experts to take part in technical discussions with their counterparts from other EPPO member countries, working together to combat risks to our crops and forests from plant pests."
Montenegro is a country of 13 812 km2 which rises steeply from the Adriatic sea to mountains of over 2500 m. Agricultural area in Montenegro occupies 38% of the total surface area. Arable land, orchards and vineyards occupy only 58,262 ha or 12% of total agricultural area. The share of pastures and meadows in the structure of the agricultural land is high. These categories of extensive land usage together form about 88% of total agricultural area. Most cultivable land is used for pastures (331,100 ha) and meadows (119,400 ha) with a smaller area in orchards and vineyards (14,300 ha). The main crops are: olive trees, vine grape, vegetable but in the continental part: plum, apple and pear are the prevailing fruit, while in the coastal area can found figs, oranges and tangerines. Forest and forestland cover 69.8% (964 262 ha) of the land area of Montenegro.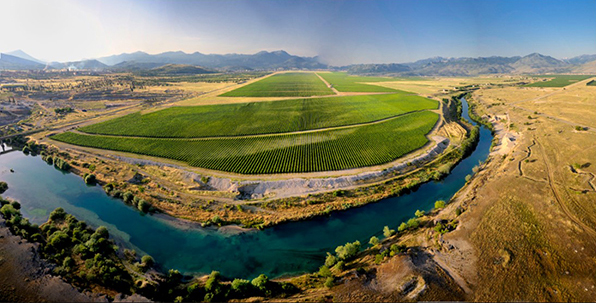 "Plantaže Agrokombinat" near Podgorica
All pictures were kindly provided by the NPPO of Montenegro