12th Meeting of the Resistance Panel on Plant Protection Products
Berlin, 2017-09-19
The Resistance Panel on Plant Protection Products met at the kind invitation of the Julius Kühn-Institut in Berlin on 2017-09-19. Special thanks are due to Mr Udo Heimbach (JKI-Braunschweig) for arranging the meeting. The Panel meeting was held in conjunction with the EPPO Workshop on integrated management of insect pests in oilseed rape (2017-09-20/22).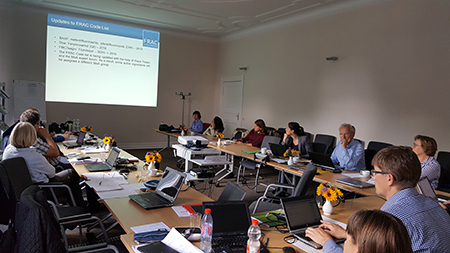 Participants

A regular topic on the agenda is the update from Panel members on the current and new resistance cases and management strategies in their countries. Country presentations were made by Austria, Denmark, France, Germany, the Netherlands, Portugal and Sweden and Switzerland.
Country presentations were followed by information from the Resistance Action Committees (RACs): Mr Slater, Mr Genet and Ms Salas informed the Panel about the new developments and recent activities for the Insecticide RAC (IRAC), Fungicide RAC (FRAC) and for the European and Global Herbicide RAC (EHRAC) respectively.
The Panel continued the discussion about the development of an EPPO Database on resistance cases. The information needed for the new cases to be entered in the database was clarified and the Panel finalized the specification for the Database. It is hoped that a first version of the Database could be presented at the next meeting of the Working Party on Plant Protection Products.
Mr Barrès (ANSES) updated participants about the ANSES survey on pesticide resistances monitoring systems across Europe. ANSES decided to broaden the survey to as many countries as possible worldwide. Data collection and analysis of results is still on-going, and the results will be published as soon as possible. The Panel emphasized the importance of the implementation of resistance management strategies at farm level in addition to monitoring activities.
The EPPO Panel on Resistance will next meet on 2018-09-11/12, in Paris at the EPPO Headquarters.