EPPO Alert List

– Zaprionus indianus (Diptera: Drosophilidae)
African fig fly
Why
Following a proposal made by the French NPPO, the EPPO Panel on Phytosanitary Measures considered that two invasive drosophilids, Zaprionus indianus and Z. tuberculatus should be added to EPPO the Alert List. Z. indianus was first described in 1970 from specimens collected in India, but this species is considered to originate from tropical Africa. During the last decades, this species has clearly demonstrated an invasive behaviour. The history of its invasion across the Indian subcontinent is not well known but presumably not recent. The invasion of the Americas started in the 1990s, with a first published record in 1999 in Brazil which was followed by a rapid and broad expansion in South America. On the North American continent, it was detected for the first time in Chiapas (Mexico) in 2002 and in Florida (US) in 2005. Z. indianus is generally considered to be a secondary pest which can live on a wide range of fruit species. However, it has been able to cause economic damage as a primary pest to fig crops (Ficus carica) in Brazil.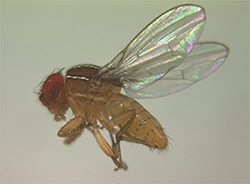 Zaprionus indianus
Courtesy: lsv.anses (FR)
Where
Z. indianus is an Afrotropical species which is now considered to be semi-cosmopolitan. Its presence has been reported in some countries around the Mediterranean Basin.
EPPO region: Cyprus, Egypt, France (first found in 2016, establishement not expected), Israel, Jordan, Lebanon, Malta, Morocco, Portugal (Madeira only), Spain (Andalucía, Islas Canárias).
Africa: Benin, Cameroon, Cape Verde, Comoros, Congo, Cote d'Ivoire, Egypt, Gabon, Guinea, Kenya, Madagascar, Malawi, Mauritius, Mayotte, Morocco, Mozambique, Niger, Nigeria, Reunion, Saint Helena, Sao Tome & Principe, Senegal, Seychelles, South Africa, Sudan, Tanzania.
Asia: India (Andhra Pradesh, Chandigarh, Delhi, Haryana, Jharkand, Karnataka, Kerala, Madhya Pradesh, Maharashtra, Uttaranchal, Uttar Pradesh), Iran, Iraq, Israel, Jordan, Lebanon, Nepal, Oman, Pakistan, Saudi Arabia, United Arab Emirates.
North America: Canada (Ontario, Québec), Mexico, USA (Alabama, Arizona, California, Connecticut, Florida, Georgia, Kansas, Michigan, Minnesota, Mississippi, New York, North Carolina, Oklahoma, Pennsylvania, South Carolina, Texas, Virginia, Wisconsin).
Central America and the Caribbean: Cayman Islands, Panama.
South America: Argentina, Brazil (Amazonas, Bahia, Ceara, Distrito Federal, Goias, Maranhao, Mato Grosso, Mato Grosso do Sul, Minas Gerais, Para, Paraiba, Parana, Pernambuco, Rio de Janeiro, Rio Grande do Norte, Rio Grande do Sul, Rondonia, Santa Catarina, Sao Paulo, Tocantins), Ecuador, French Guiana, Paraguay, Peru, Uruguay, Venezuela.
On which plants
Z. indianus is a generalist species which uses a wide range of cultivated and wild fruit species (approximately 80 host species) for feeding and mating. Z. indianus is a secondary pest which usually does not attack unripe and undamaged fruits (unlike Drosophila suzukii). Z. indianus mainly feeds on bacteria and yeasts (e.g. Candida tropicalis) found on decomposing fruits. However, in Sao Paulo (BR), Z. indianus has been reported to feed and cause direct damage to fig (Ficus carica) crops. Z. indianus has been found in association with- or reared from the following fruit species (the list is not exhaustive): Actinidia chinensis (kiwifruit), Aleurites mollucana (Indian walnut), Anacardium occidentale (cashew), Annona glabra (pond apple), Averrhoa carambola (star fruit), Campomanesia aromatica (strawberry guava), Citrus sinensis (sweet orange), Dimocarpus longan (longan), Diospyros kaki (persimmon), Eriobotrya japonica (loquat), Ficus carica (fig), Fragaria x ananassa (strawberry), Genipa americana, Malpighia emarginata (Barbados cherry), Malpighia punicifolia (acerola), Musa (banana), Olea europaea (olive), Persea americana (avocado), Phoenix dactylifera (date), Prunus armeniaca (apricot), Prunus cerasus (sour cherry), Prunus persica (peach), P. persica var. nucipersica (nectarine), Psidium guajava (guava), Punica granatum (pomegranate), Rubus idaeus (raspberry), Solanum lycopersicum (tomato), Spondias tuberosa (imbu), Syagrus romanzoffiana (queen palm), Syzygium jambos (rose apple), Vaccinium spp. (blueberry), Vitis vinifera (grape), Ziziphus jujuba (common jujube), Ziziphus spina-christi (Christ' thorn).
Damage
As is the case for most drosophilids, Z. indianus is a secondary pest which infests overripe, fallen, or rotting fruit, but it has been reported as a primary pest of fig in Brazil. It has been observed that females oviposit near the fig ostiole from where larvae can easily access and feed on the interior fruit flesh, causing the fruit to become soft and unmarketable. When it was first reported in 1999 in the Valinhos area (Sao Paulo), one of the main fig-producing area in Brazil, losses were estimated at 40% in fresh figs with an 80% reduction in fruits eligible for export. However, apart from this initial observation, data is generally lacking about the present impact of the pest on Brazilian fruit crops. In a paper about the presence of Z. indianus in Jordan, it is reported that heavy losses were observed on figs but that no quantitative research was done.
Adults are small flies (about 3.5 mm long) with a reddish-brown head and thorax, yellow abdomen and red eyes. A pair of longitudinal white stripes, interspersed with black bands, are clearly visible on the back of the head and thorax. Eggs are small, white and oblong with 4 filaments. There are three larval stages. Larvae have white, cylindrical bodies (3.5 mm long when fully grown), tapered anteriorly with posterior spiracles. Pupae are spindle-shaped, reddish brown with two anterior stigmata.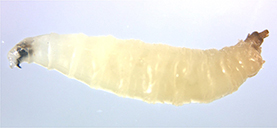 Larva - Courtesy: lsv.anses (FR)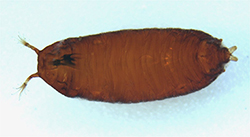 Pupa - Courtesy: lsv.anses (FR)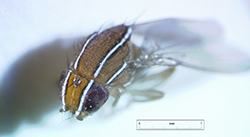 Adult - Courtesy: lsv.anses (FR)
Dissemination
Studies have been carried out in Brazil to better understand the invasion history of Z. indianus. It is hypothetized that it first arrived in Sao Paulo state with air transport of fruit from Africa. It then further spread within the country by natural means and more importantly by road transportation of commercial fruit, in particular along two major highways (BR-153 (transbrasiliana highway) and BR-116). It is also supposed that Z. indianus has been introduced into other parts of the world by human activities and in particular by intercontinental movements of fruits.
Pathway
Fruit of host plants from countries where Z. indianus occurs.
Possible risks
Z. indianus has clearly demonstrated its invasive behaviour, and its ability to adapt to new environments and to use a wide range of fruit species, many of them being cultivated in the EPPO region. Z. indianus is generally considered to be a tropical and subtropical species, therefore more data would be needed on its potential of establishment under temperate conditions. For example, in the cooler areas of its invaded range (e.g. in Northern India or Canada/USA), it is not known whether the species survives periods of cold in diapause or populations re-establish through reintroductions. Its capacity to damage crops directly has been observed on figs which is an important crop around the Mediterranean Basin. Its interactions with other drosophilids or fruit flies might enhance the negative impacts of the latter on cultivated fruit crops. Recent studies have shown that Z. indianus could be reared in large numbers from fruits which were attacked by other pests such as, D. suzukii (on grapes in Michigan, strawberries in Southern Brazil), Ceratitis capitata (on kiwifruit in Lebanon) and Bactrocera oleae (on olive in Iran). Although no economic losses have been reported from the Mediterranean countries where Z. indianus has been introduced, its potential to become a fruit pest in the EPPO region cannot be totally ruled out and considering the recent experience with the introduction of D. suzukii, it seems wise to monitor the situation of Z. indianus within the EPPO region.
Sources
Alawamleh A, Katbeth-Bader A, Hassa N, Al-Jboory I (2016) Distribution and host range of the African fig fly Zaprionus indianus (Diptera: Drosophilidae) in Jordan. Jordan Journal of Agricultural Sciences 12(2), 555-564.
Al-Jboory IJ, Katbeth-Bader A (2012) First record of Zaprionus indianus (Gupta, 1970) (Drosophilidae: Diptera) in Jordan. World Applied Sciences Journal 19(3), 413-417.
Bernardi D, Andreazza F, Botton M, Baronio CA, Nava DE (2016) Susceptibility and interactions of Drosophila suzukii and Zaprionus indianus (Diptera: Drosophilidae) in damaging strawberry. Neotropical Entomology. DOI 10.1007/s13744-016-0423-9.
Commar LS, Galego LGC, Ceron CR, Carareto CMA (2012) Taxonomic and evolutionary analysis of Zaprionus indianus and its colonization of Palearctic and Neotropical regions. Genetics and Molecular Biology 35(2), 395-406.
Kremmer L, David J, Borowiec N, Thaon M, Ris N, Poirié M, Gatti JL (2017) The African fig fly Zaprionus indianus: a new invasive pest in France? Bulletin of Insectology 70(1), 57-62.
Galego LGC, Carareto CMA (2010) Scenario of the spread of the invasive species Zaprionus indianus Gupta 1970 (Diptera, Drosophilidae) in Brazil. Genetics and Molecular Biology 33(4), 767-773.
Gottschalk MS, Hofmann PRP, Valente VLS (2008) Diptera, Drosophilidae: historical occurrence in Brazil. Check List 4(4), 485-518.
Joshi NK, Biddinger DJ, Demchak K, Deppen A (2016) First report of Zaprionus indianus (Diptera: Drosophilidae) in commercial fruits and vegetables in Pennsylvania. Journal of Insect Science 14(259). DOI: 10.1093/jisesa/ieu121
Lasa R, Tadeo E (2015) Invasive drosophilid pests Drosophila suzukii and Zaprionus indianus (Diptera: Drosophilidae) in Veracruz, Mexico. Florida Entomologist 98(3), 987-988.
Leão BFD, Tidon R (2004) Newly invading species exploiting native host-plants: the case of the African Zaprionus indianus (Gupta) in the Brazilian Cerrado (Diptera, Drosophilidae). Annales de la Société entomologique de France (n.s.) 40(3/4), 285-290.
Mattos Machado T, Solé-Cava AM, David JR, Bitner-Mathé BC (2005) Allozyme variability in an invasive drosophilid, Zaprionus indianus (Diptera: Drosophilidae): comparison of a recently introduced Brazilian population with Old World populations. Annales de la Société entomologique de France (n.s.) 41(1), 7-13.
Nava DE, Nascimento AM Stein CP, Haddad MK, Bento JMS, Parra JRP (2007) Florida Entomologist 90(3), 495-501.
Oliveira GF, Soares de Melo KP, Lauer Garcia AC, Rohde C (2009) First record of Zaprionus indianus (Diptera, Drosophilidae) in Fernando de Noronha, an Oceanic Island of Pernambuco State, Brazil. Drosophila Information Service 92, 18-20.
NPPO of Cyprus (2017-03).
Parchami-Araghi M, Gilasian E, Keyhanian AA (2015) Olive infestation with Zaprionus indianus Gupta (Dip.: Drosophilidae) in northern Iran: a new record and threat to world olive production. Drosophila Information Service 98, 60-61.
Pasini BMP, Link D (2012) Occurrence of Zaprionus indianus (Diptera: Drosophilidae) in Agudo, Rio Grande do Sul, Brazil. EntomoBrasilis 5(1), 70-74.
Prezoto F, Braga N (2013) Predation of Zaprionus indianus (Diptera: Drosophilidae) by the social wasp Synoeca cyanea (Hymenoptera: Vespidae). Florida Entomologist 96(2), 670-672.
Ramniwas S, Kajla B, Parkash (2012) Extreme physiological tolerance leads to the wide distribution of Zaprionus indianus (Diptera: Drosophilidae) in temperate world. Acta Entomologica Sinica 55(11), 1295-1305.
Renkema JM, Miller M, Fraser H, Légaré JP, Hallet RH (2013) First records of Zaprionus indianus Gupta (Diptera: Drosophilidae) from commercial fruit fields in Ontario and Quebec, Canada. Journal of the Entomological Society of Ontario 144, 125-130.
Ribeiro Barbosa MR, Graciolli G, Paiva F (2012) Diptera, Drosophilidae, Zaprionus indianus Gupta, 1970: distribution extension for the state of Mato Grosso do Sul, Brazil. Check List 8(1), 175-176.
Santos JF, Rieger TT, Campos SRC, Nascimento ACC, Félix PT, Silva SVO, Freitas FMR (2003) Colonization of Northeast Region of Brazil by the drosophilid flies Drosophila malerkotliana and Zaprionus indianus, a new potential insect pest for Brazilian fruitculture. Drosophila Information Service 86, 92-93.
Stein CP, Teixeira AP, Novo JPS (2003) [Biological aspect of the fig fly, Zaprionus indianus Gupta,1970 (Diptera: Drosophilidae)]. Entomotropica 18(3), 219-221 (in Portuguese).
van der Linde K, Stack GJ, Hibbard K, Birdsely JS, Alonso LM, Houle D (2006) First records of Zaprionus indianus (Diptera: Drosophilidae), a pest species on commercial fruits from Panama and the United States of America. Florida Entomologist 89(3), 402-404.
Vilela CR (1999) Is Zaprionus indianus Gupta, 1970 (Diptera, Drosophilidae) currently colonizing the Neotropical region? Drosophila Information Service 82, 37–39.
Yazzin A, David JR (2010) Revision of the Afrotropical species of Zaprionus (Diptera, Drosophilidae), with descriptions of two new species and notes on internal reproductive structures and immature stages. ZooKeys 51, 33-72.
Zinette M (undated) Zaprionus indianus, could be a serious pest in Lebanon? http://www.lari.gov.lb/LinkClick.aspx?fileticket=VuBw1nReERI%3D&tabid=97&mid=406
EPPO RS 2016/207, 2017/081, 2017/097
Entry date 2016-11